Lead stories

Lloyd Walworth was only 30 years old when he decided to start a community choir in The Dalles. Four decades later, the Cascade Singers are still going strong and will celebrate with a "Forty Years of Happy Singing" concert Saturday, June 4, at 7 p.m. and Sunday, June 5, at 3 p.m. in the same venue as their very first show — St. Peter's Landmark.
Students were crabby for about the first week after The Dalles Middle School eased in a ban on bringing sugary and caffeinated drinks to school. But then they got over it.
Memorial Day observances are being held in both The Dalles and Wasco, and organizers invite area residents to attend and pay respects to America's war dead, veterans and active-duty troops. Jeremy Anderson, chaplain for Veterans of Foreign Wars Post 2471, is the keynote speaker for The Dalles ceremony, which begins at 11 a.m. Monday, May 30, in front of the Veterans' Memorial at Kelly Viewpoint.
Fire, police, lottery reports
Opinion
Featured content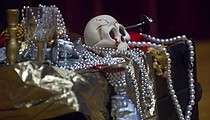 The Pirates of Penzance, Junior, at TDMS
Photo gallery