Lead stories
City of The Dalles Public Works Department will be repairing a section of water main line along East Scenic Drive Thursday, Sept. 29. Traffic control flaggers will direct one-lane traffic at the intersection of East Scenic Drive and Ester Way between the hours of 8 a.m. and 4 p.m. to facilitate the main line work.
A city police officer responding to a call last Thursday afternoon of two dogs attacking chickens had to shoot several times when one of the dogs charged at him.

When Stephanie Rawlings, a server at Zim's Brau Haus, hung a campaign banner for The Dalles Mayor Steve Lawrence on the east side of the outdoor parklet, she did not know that act was prohibited by the city's sign code.

Pence, Farrell combine for 291 yards rushing to lead Rangers
DUFUR – Make it 4-0 for the Dufur Rangers. In a dominating performance on Friday evening, the Rangers scored first and never looked back, rolling to a solid win in their league opener against the Perrydale Pirates. The final score was 56-14.

Sherman takes 66-0 triumph over South Wasco County
The Sherman Huskies racked up 267 yards rushing, and senior quarterback Kyle Fields completed 6 of 8 passes for 119 yards in a 66-0 shutout victory over South Wasco County Friday in a Big Sky conference tilt played in Moro.
September Wednesday, September 28 GORGE CHAPTER: Coastal Conservation Association Oregon is seeking to form a gorge chapter and invites people interested in keeping fishing licenses affordable and hatcheries open to come to a meeting starting at 6 p.m. at the Charburger Country in Hood River, 4100 Westcliff Drive. For more information call Chris Cone at 541-213-1464.

White Salmon scores 27 points in fourth for 44-20 win

Dominique Seufalemua tallied 96 yards rushing with two scores, and the receiving combination of Dakota Murr and Glenn Breckterfield combined for five catches for 95 yards, but White Salmon erased a 20-17 fourth-quarter deficit with 27 unanswered points in a 44-20 victory Friday in a non-league football game.

Sherman, South Wasco and The Dalles also in action Tuesday night

Chloe Beeson dropped seven kills, five digs and a block, Haili Wolf-DePriest added a season-high 10 service aces and the No. 15 Dufur Rangers scored a three-game sweep over Mitchell-Spray Tuesday in a league match in Spray.

Three second-half goals, just five minutes apart, lead to 6-0 setback

Freddy Rodriguez scored three goals and added an assist, and Anthony Carillo scored twice to lead the Hermiston Bulldogs to a 6-0 shutout victory at Discovery Field in The Dalles.
Opinion
Featured content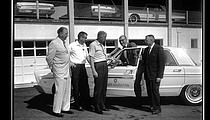 History Mystery and Looking Back for Sept. 4