Lead stories
Focus of the new changes are on uniforms and equipment

Legion squad erases early deficit to score a 14-9 victory

Columbia Gorge Hustler co-head coach Doug Sawyer said he can learn a lot about a team when they are faced with adversity. Over the past two weeks, the Hustlers re-shuffled their coaching staff, overcame injuries and departures, but managed to put together a streak of four wins in the past five games, capped by a 14-9 triumph over Pendleton Thursday in a one-game American Legion playoff matchup at Bob Williams Field.

Riverhawk football hosts 40 kids for four days of fundamentals

For a four-day span at Amaton Field in The Dalles, 40 boys and girls with dreams and aspirations of becoming varsity superstars stepped onto the gridiron at Amaton Field to take part in the 2016 The Dalles High School Youth Football Camp. With TD football coach Steve Sugg catching the action alongside assistant coaches Dan Telles, Joe Abbas, Gabe Wilson and Jermaine Hisatake, the players ranging from third-through-eighth grades participated in a four-day session covering offensive, defensive and technique drills.

A win over Pendleton sets up Super Regionals bid

Needing to win three of four games this past weekend, the Hustlers nearly swept a pair of league doubleheaders, but still won three games to set up a one-game playoff against Pendleton at 6 p.m. tonight at Bob Williams Field.
Opinion
Featured content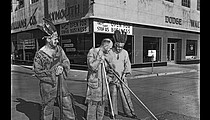 Look back in history -- from the archives of The Dalles Chronicle