Lead stories

Wasco County Commissioner Scott Hege called Debra Lutje's opinion piece that ran Jan. 29 in The Dalles Chronicle "offensive" to ranchers but it wasn't enough to remove her from the Wolf Compensation Committee. Chair Rod Runyon and Commissioner Steve Kramer agreed as all three voted against taking Lutje off the committee that includes one other wolf advocate, two ranchers and two business representatives.
As Penny Grotting was analyzing winter test results from the local elementary schools, she began to notice something.

A senior engineer at Insitu, Garry Estep was long retired from the music industry when he was asked to read for a small part in The Dalles Theater Company's presentation of "Sordid Lives" last year. Next thing he knew, Estep was on stage in his underwear, which led to him joining the theater company's board of directors, performing in another play—"Dracula the Musical"— and now he's him directing "The Quintessential Rogers and Hammerstein."
The Dalles girls' tennis team made sure to put exclamation point on a solid league campaign with an 8-1 win over Pendleton Tuesday in The Dalles. "Real solid efforts all around," said TD coach Debby Jones. "Pendleton is a lot younger this year as opposed to past years and we were determined to show respect, but dominance all at the same time." Robin Pashek defeated Jenna Senter by scores of 6-1 and 6-2 at No. 1 singles, and at No. 2, Brittany Bernstein added a 3-6, 6-4, 10-8 triumph over Brandy Brown. Yahira Alvarez also needed three sets to upend Gabby Cuthbert, winning 6-4, 5-7, 10-4 at No. 4 singles, and Natalie Varland defeated Kelsey Cartnell 8-2 in a No. 5 pro-set match. Johanna Wilson and Kiana Pielli breezed past Anne James and Isabelle Chapman, 6-0 and 6-0 in their No. 1 doubles match, and the No. 2 duo of Emma Smith-Ell and Rebekah Kohltfarber outworked Denae Smith and Jessie Patterson by scores of 6-2 and 6-2. Abby Minnick and Ellie Trujillo tacked on a 6-4, 6-2 win at No. 3 doubles, and Cassie Vazquez and Tiani Langston dominated their No. 4 doubles match over Bradi Reynolds and Heather Wilcox, 6-1 and 6-0. TD was in Hood River tonight for its final league match, and then head to Bend for the two-day district tournament starting on May 13.

An operational failure at The Dalles wastewater treatment plant, combined with a rain event, resulted in discharge of treated but non-disinfected wastewater Wednesday evening through early Thursday morning.
Opinion
Featured content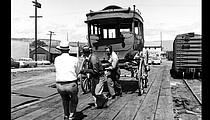 History Mystery and Looking Back, from the archives of The Dalles Chronicle.