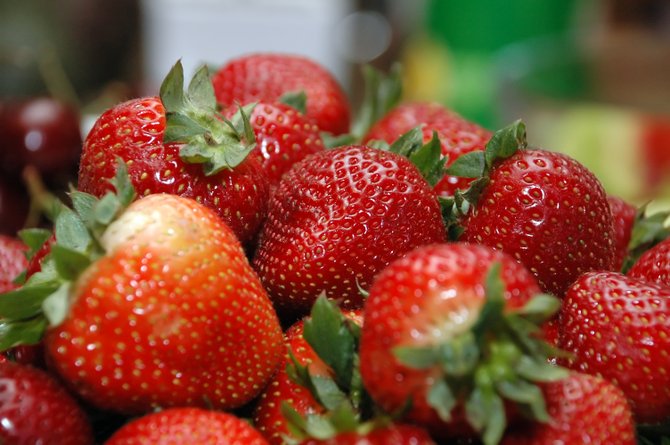 The Dalles — The sweet, flavorful strawberries that are the staple crop at J&K Growers are the product of do-it-yourself innovation rather than the latest farm chemicals, according to owners Jeff Dearborn and Karen Schwartz.
The married Dallesport couple started their small produce farm eight years ago and have been learning ever since, starting with when they learned to weld so they could build their own 4,000-square-foot covered greenhouse with another 14,000 square feet of infrastructure they haven't covered yet.
"The first few welds were impressive, the other thousands were just more work," Schwartz said modestly.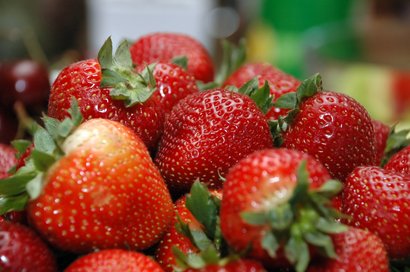 Since then they've researched everything they can about topics from chemical-free weed control to marketing.
"We're our own research librarians. If we come across a new pest we can Google it and within 48 hours we know what we're dealing with and how to handle it,"Dearbornsaid.
The pair use only natural methods, like buying lacewings, tree frogs and lady bugs for pest control or using dead fish to get more nitrogen in the soil. Schwartz said they are close to getting their produce officially certified as organic, which is an expensive process.
Even their choice to grow strawberries is the product of careful research about local growing conditions and economic demand after they decided it was time to get out of the real estate business.
"We were looking at which crop could make money andCaliforniagets away with selling horrible-tasting strawberries because they have no competition,"Dearbornsaid.
They're also expanding into corn, lettuce and other crops. They're helped by Schwartz's "green thumb" andDearborn's Bachelor of Science in botany.
For them, growing a quality product is less of a challenge than finding the right market, somewhere between farmers' markets and grocery stores like Safeway. Schwartz said people tend to buy produce at the grocery store because it's usually cheaper, but there are a lot of benefits to supporting local farms like J&K Growers.
"Our food lasts a lot longer in the fridge without going bad. It tastes better. There's less waste. You're supporting your neighbor," she said.
"We're trying to make a product that can leave the area but bring cash back to it,"Dearbornadded.
They've come up with a few ways to add value to the strawberries. One product they said they're looking to sell in places like concession stands is a collection of de-hulled, frozen strawberries on a stick that can be eaten like a Popsicle, only healthier and better-tasting.
They're also working on building a smaller, single-person prototype of a machine that helps pickers at large farms scoot along the ground without having to constantly get up and down or bend over.
Dearbornsaid the farm has had some setbacks, like when a flock of geese "lightly mowed" their strawberries or when their first covering blew away, but overall their use of a variety of natural methods instead of a single chemical gives them stability.
"I don't wake up in the morning worrying about one disease or one bug wiping us out," he said.
J&K Growers can be contacted at 971-219-3255.
J & K Growers also provide a Community Supported Agriculture option for people who want fresh, local produce on a regular schedule. More information is available at www.jandkgrowers.com.