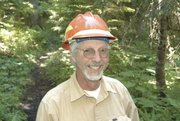 David Gross has never acted before but he knew the part of the Boss was right for him.
"I've lived it," said Gross, a long-time Dufur resident, of living the ranch life. It's what drew the longtime U.S. Forest Service employee to the role of the hard-bitten ranch boss in "Of Mice and Men," by John Steinbeck, on stage through this weekend at Columbia Center for the Arts in Hood River.
"I've lived on two wheat and cattle ranches in Wasco County all my adult life, 47 years, and on one of them for 38 years," said Gross. He is quickly learning a new skill, acting, but one that he connects to on a personal level.
Gross, a Vietnam veteran, has worked for the Mt. Hood and Barlow ranger districts for the past 45 years, mostly in outreach, grant writing, education and volunteer coordination.
Gross is caretaker for the ranch he lives on, and while it has been inactive for the past 15 years it still needs work, including fence repairs.
"When it was active I worked it weekends, feeding cattle, and mending fences. I worked calves, fixing fences, moving irrigation pipes, bucked more hay than you can imagine, fed 70 cows on freezing winter mornings. I've lived it."
He also repairs fences and does other volunteer work for Nature Conservancy preserves.
"It's a part of who I am; it's my life," he said.
"I just feel I was meant to play in this play, and that's how I developed the character."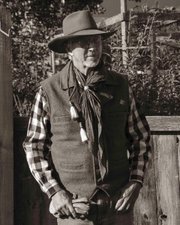 Putting experience to work in a dramatic play was a natural way for Gross to get involved in theater, something he thought of since seeing a readers' theater at CAST a few years back, of "Welcome Home, Jenny Sutter," with its theme of Iraq war veterans returning to the U.S.
"It was just a desire to step out of my comfort zone a little and get into a new community and form some new friends or relationships and experience a different side of the world," Gross said.
"It's been kind of an eye-opener," he said. "I read the part and read it at audition, and started putting a little of myself into it, but when we started rehearsing it became apparent I needed to do something with this to get into the character more, to read more into it and develop myself." He said cast member Blaire Carroll gave him good advice.
"She told me, 'Steinbeck wrote the words, but you have to develop the character.' So I started thinking about my character and knowing what I know about that era," of the 1930s.
"I live my life in a very rural agricultural way anyway," he said. "I relate to these people, having worked on ranches and my house is furnished in what you might call rural primitive."
Everything on stage in "Of Mice And Men," with a few exceptions, came from Gross's house, including many of the costumes.
"We need a washtub and Lynda asked for one and I said, 'I've got three of those at home, I'll bring one in.'
"One rehearsal night, Curley needs a different shirt, so I said, 'I'll bring you a supply tomorrow night.'
"Every knickknack, even the rug on the wall, everything is mine," he said.
As much as Gross could relate to the ranching life in the play, he still needed to come up with the back-story of the Boss, advice he took from fellow cast member Tom Burns.
"In my mind, he was born in the late 1800s, served in the Spanish American war and had a child who died in the flu epidemic of 1919," he said. "I had it all developed in my head, then it was just a matter of putting it into practice and learning the ins and outs of acting, and how you present it on stage."
Shows are Thursday to Saturday, 7:30 p.m., (2 hours, 45 minutes including intermission)
• Center for the Arts is located at Third and Cascade streets in Hood River, just off exit 63.
• Tickets are available at Waucoma Bookstore, showtix4U.com and at the Center.
• Language and adult themes; play is suitable for 14-and over.
• For Aug. 9 show, bring up to three cans of food for FISH food bank, for discount of $1 per can off admission.