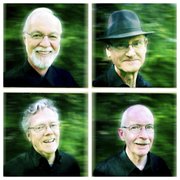 Dan Ross is known for behind-the-scenes work to bring live music to the Columbia Gorge, but this weekend Ross will be on stage for the Neon Street Dance Saturday, Aug. 11, at The Dalles Civic Auditorium with his 1960s band The Sceptres.
Advance tickets for the 21-and-older show are $10 available at Klindts' Booksellers. Gates open at 6:30 p.m., and the show starts promptly at 7:30. A limited number of folding chairs will be provided, so guests are encouraged to bring lawn chairs. Food and beverages will be on sale.
The event is a benefit for the Civic and The Dalles Rotary scholarship programs.
When Ross says The Sceptres are a 60s band, he means it. He and childhood friends Cal Scott, Bob Bailey and Steve Anderson started the band in 1964, while attending junior high school in La Grande. Doing the math, that means their ages also meet the same description.
"Our dream was probably to be on Ed Sullivan," Ross said. "That's where we saw the
Beatles, the Stones, the Animals and the Young Rascals."
Their name is a riff off another popular 1960s band, The Kingsmen, who immortalized the song "Louie, Louie."
"You know, Kings — Sceptres," Ross explained.
Today, Scott describes their sound as "surfers jam with English Invasion at Woodstock."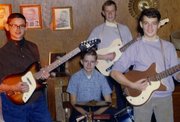 The little band was good enough at the time to get paying gigs at church dances and private events. They even played a high school sock hop.
"But the [high school kids] were embarrassed that we were a junior high band," Ross said. Among those embarrassed teens were older siblings of all the band members. "So they put us up in the gym mezzanine. They put us up there, with a couple of small lights for us, so they didn't have to see us."
The Sceptres' dream of rock and roll greatness was cut short when Scott's dad, a band director at La Grande High, got a job in West Linn after the youths' ninth grade year.
"We have a great photo of us playing our ninth grade graduation in front of family and friends, then Cal moved away," Ross said.
Even though the bandmates grew up and moved on to different careers, that wasn't to be The Sceptres' final chapter.
"All four of us are good friends," said Cal Scott, the only band member who went on to a professional music career. "We've maintained our friendship from when we were kids, sometimes closer than others."
Though Scott graduated elsewhere, he still attended La Grande High School reunions. At one of those reunions, the band was invited to play.
"We hadn't rehearsed in 25 years, but we played together," Scott said. "We had a great time and were just laughing out heads off."
Then, at their 40th reunion in 2008, The Sceptres were officially asked to play. They rehearsed this time — over email.
"We had such a good time and after that we said we need to do this, it's so much fun," Scott said.
The Sceptres reunited again for Ross' 60th birthday at The Pines in Hood River, then followed with a "North American tour" of two performances, a reprise at The Pines and a show at O'Connors' in Portland.
Since that time, the band has made performing a more regular thing, rehearsing long-distance and playing once or twice a month, mostly at The Pines and O'Connors.
"I think it's worked because everybody still plays," Scott said. "Everybody has stayed up on their instruments and enjoys playing that music from that period."
And while they still focus on that 1964 to 1969 golden era of rock and roll, they have a few more songs in their play list than when they were teens.
Asked if the band members fall into old behavior patterns when they get together, Scott said, "I think it's way different. We're playing from the perspective of adulthood … and we all know how to play our instruments. Back then it was like, 'Ever seen this chord? I think I invented it!'"