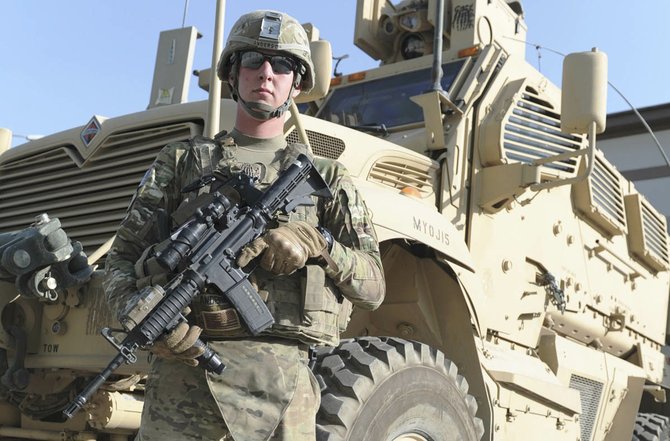 Getting down to business in Afghanistan is considered rude if social interaction has not taken place first.

Oregon National Guard Pvt. Jordan Anderson, 20, of Moro, said U.S. troops must adopt that custom if they are going to be effective when interacting with Afghan security forces and civilians.
"The cultural dynamics are totally different over here; conversations are very casual before they get into heavier subjects," he said during a telephone interview from Afghanistan. "The people are going to be offended if you don't take the time to ask about their families and how they are doing."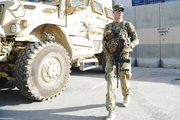 He said the Afghanis are also very hospitable and quick to offer a cup of tea or food to visiting military personnel in spite of the poverty they live in. He said the people place great value on human relationships, perhaps because they have few material possessions to focus their energies on.
"It just opens your eyes that people can live and be happy without all of the amenities that we have in America," said Anderson. However, he does miss the comforts of life in the U.S. and is looking forward to
returning home within the month and filling up on Taco Bell specialties, his favorite fast food restaurant.
"I miss camping out with friends and I would kill for some Taco Bell right now," Anderson said.
An interview with the local soldier, who will soon be promoted to specialist, was arranged last Friday by David Lakin, a public affairs officer for the Department of Defense. Anderson, a 2010 graduate of Sherman County High School, went straight from boot camp in 2011 to pre-deployment training at Fort Bliss, Texas, with the 1186th Military Police Company, based out of Salem. He works as a ranch hand in his civilian life.
The police company arrived in Kabul, pronounced Cabal, last December and the platoons split up and were stationed on several bases in and around the city of 5 million people.
Returning to the states with Anderson will be Sgt. Nick Mendez of The Dalles, who is on his third deployment and 1st Lt. Brian Fike, former commander of The Dalles Armory. Fike earned a Bronze Star for outstanding service during dangerous times after the military's inadvertent burning of a quran in January. Taliban militants and religious leaders staged protests throughout Kabul, the capital of the country and largest city.
The 1186th was then faced with the rising danger of having insurgents who had infiltrated the Afghan ranks fire on them while they were at work on the base. Thirty give of the so-called "green-on-blue" attacks have occurred so far in 2012, more than any previous year in the war. After 10 Americans were killed by "friendly" Afghan soldiers and police during the past two weeks, commanders in Afghanistan have ordered troops to keep their personal firearm loaded and with them at all times. The green-on-blue designation for the killings has been changed to "insider attacks."
Anderson said after arriving in the war zone he had to make a mental adjustments to be ready for "anything to happen at any time." However he said the troops continue to carry out their missions despite the potential threat of encountering a Taliban fighter in the uniform of an ally.
"When you volunteer you know you are going to have some tough times but you just suck it up and go on," he said. "We just do our jobs; that's all we can do."
Lakin said most of the news reported out of Afghanistan involves some violent act so it is difficult for most Americans to understand that the country is not "chock full of bad guys."
"The average Afghani wants the same things we want; security, stability and safety," he said. "The majority of the people are grateful to have us here because we are making their lives better."
Jordan, the son of Andy and Carol Anderson, said most of the Afghan people are friendly and wave to the American troops as they pass by on patrol. However, he said it is difficult to know exactly where insurgents will launch the next attack so he is always vigilant behind the .50 caliber machine gun in in the turret of an upgraded version of the MRAP (Mine Resistant Ambush Protected) vehicle that is designed with "V" shaped armored hull to deflect roadside bomb blasts. He also gets behind the wheel of the $470,000 truck, which has to be maneuvered quickly to avoid roadside bombs and other threats, no easy task at 32,500 pounds.

In addition to providing convoy security, Anderson's unit serves as a Quick Reaction Force to help soldiers who come under fire and sets up perimeters for the safe landing of Medevac helicopters when American and Afghan forces are wounded. The 1186 also transports soldiers with injuries that are not traumatic enough to require a flight to hospitals on one of the bases.
"We have no specific hours, we just get called out whenever we are needed," he said. "There is no such thing as a one-man show over here; it's a team effort for sure."
He said one of the most enjoyable aspects of his job is interacting with the Afghani children and the soldiers regularly take hygiene items and other supplies to a nearby orphanage.
"Some of their parents were killed in the war and others just couldn't afford to keep their children and left them there," he said. "They flock around us when we visit and want to know everything about us. Anything that we give them just brings the biggest smiles and I think it's really cool that with everything they have been through, they still keep smiling."
He said watching the children express appreciation for pencils, paper and any other gifts they are provided with has taught him to be extremely grateful for the advantages that he had growing up in America. He said schools are now being established for girls, something forbidden under Taliban rule, and they are excited about being educated and able to have more life choices.
Lakin said the base where Anderson and about 1,000 other soldiers live is located in downtown Kabul. He said the encampment resembles a "prison" with walls fortified by sand bags that are topped with concertina wire and armed guards manning towers on every corner.
"It's like a hole in the doughnut," he said of the base placement.
Lakin said Anderson's squad and others patrol outside the perimeter of the base every day to keep the Taliban from launching an attack.
"We have plans for every situation and every contingency; our Guard are always prepared to deal with a threat," he said.
Anderson said the soldiers live in barracks that resemble train cars but are half the size and house three people. He said the housing is air conditioned and soldiers have access to a gym for physical fitness training and are served three meals a day, plus a midnight snack, at the chow hall. The food choices include pizza, non-alcoholic beer and Mexican food, which Anderson said is nowhere near as good as Taco Bell.
"It's good to be home but if you are going to be here, this is a good place to be," said Lakin.
Anderson said being in the military has provided him with valuable skills to get a job in the field of criminal justice, which is his career interest. He said military police are trained in profiling suspects, conducting investigations and reacting under stress in a professional manner to dangerous situations.
When he returns home, Anderson plans to enroll at Linn-Benton Community College in Albany and then transfer after the two-year mark to Oregon State University in Corvallis to earn a degree in psychology, sociology and foreign relations.
Anderson said he decided to join the military after his brother, Sean Crandall, enlisted but it was no surprise to his family, who has a long history of service to country.
"I thought it was a really honorable thing to do. I wanted to join and do my part," said the combat veteran.