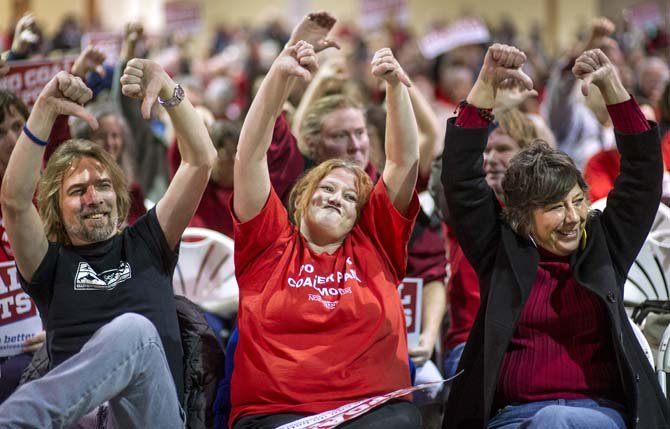 SEATTLE (AP) — After six hearings around Washington on a proposed coal export terminal near Ferndale, supporters and opponents already knew their lines for Thursday's final meeting, which was moved to the state convention center because it can accommodate 3,500 people.
About 650 people attended a Wednesday night hearing in Vancouver and hundreds more attended recent meetings in Spokane, Ferndale, Bellingham, Mount Vernon and Friday Harbor.
The prospect of long coal trains rolling through Seattle's downtown waterfront is not welcomed by Mayor Mike McGinn. He announced Wednesday the city would commission a study of the local traffic and safety impacts of an estimated 18 coal trains a day.
Opponents scheduled a rally at Freeway Park near the convention center before Thursday's meeting.
King County labor and business leaders also scheduled a news conference before the meeting.
Both sides have rallied followers to attend meetings — supporters in green shirts, opponents in red shirts.
Color was nearly the only way some people could express themselves at the Vancouver hearing at Clark College where applause and booing were not allowed. The crowd could raise hands in approval or give a thumbs-down gesture to a limited number of speakers who were selected by a drawing, The Columbian reported.
The arguments are familiar by now: Supporters see coal trains bringing jobs, an economic boost and tax revenues. Opponents see train congestion, coal dust and environmental risk.
The $600 million Gateway Pacific Project proposed by SSA Marine of Seattle at Cherry Point is the largest of five proposed terminals in Washington and Oregon to ship coal from Montana and Wyoming to power plants in Asia. The terminal could handle up to 54 million bulk tons a year. It could handle other bulk cargo, such as grain.
The U.S. Army Corps of Engineers, Washington State Department of Ecology and the Whatcom County Council scheduled the hearings to identify issues to be studied. The public comment period remains open through Jan. 21, and then an environmental impact statement will be drafted.
Other coal export ports are under consideration at Longview and in Oregon at Coos Bay, Port of Morrow and St. Helens. A proposal at Grays Harbor, Wash., has been shelved.
"Have you experienced what coal dust can do to property? I have," said Vancouver resident Toni Montgomery who lives near a railroad track. She told the Vancouver meeting pollution and train congestion are significant concerns. "It's a dangerous mess," she said.
Locomotive engineer John Lawson of Kennewick spoke in favor of coal exports in Vancouver, The Columbian reported.
"My biggest concern has been the impact on the economy," he said, adding such projects "provide a tax boost to our state."
---
Information from: The Columbian, http://www.columbian.com