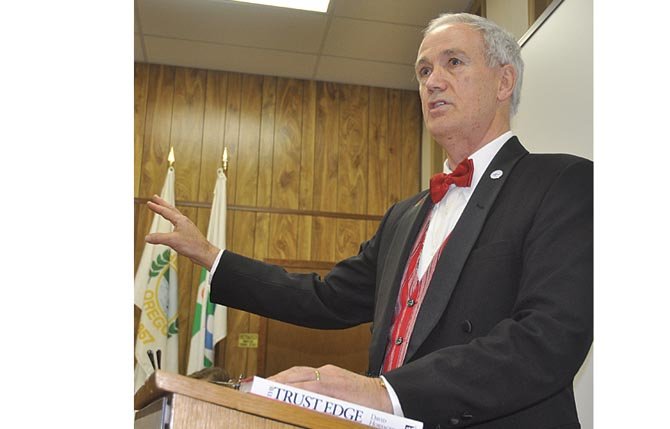 Portland — The term of The Dalles Mayor Jim Wilcox is winding down and his farewell speech at the final council meeting of his term also served as a literary lesson.
That came as no surprise to city officials or the 25-member audience because the mayor has opened every meeting by reading a quote by founding father Thomas Jefferson, the principal author of the Declaration of Independence, or another notable figure in history.
Wearing his "Monopoly Mayor" suit, Wilcox started off his comments Dec. 10 with a quote by Gracie Allen, "Never place a period where God has placed a comma." He referenced his comeback after a heart attack in 2009 as proof of how that adage had already played out in his life.
Wilcox had been on the city council for three years before the heart attack occurred, but regained his health enough to accept an appointment to the position of mayor in 2010 when Nicki Lesich stepped down to take a job with the city. He then ran successfully for the lead city office in the fall of that year.
"For those of you who don't think I have a heart, it was given to me by the council at my first meeting back," he quipped last week.
Wilcox hopes to continue public service as a member of the Columbia Gorge Regional Airport board. He would also like to take a seat on the city's budget committee, where he believes his experience as an elected representative will help when choices are being made about expenditures.
He decided not to seek a second term in office last September so he could focus more time and energy on his role as one of three principal brokers at Columbia Gorge Real Estate in The Dalles.
At the Dec. 10 meeting, Wilcox held up a copy of "The Trust Edge," a book written by David Horsager that outlines how good leadership is built on a cornerstone of trust inspired by eight pillars: clarity, compassion, character, competency, commitment, connection, contribution and consistency.
"This should be required reading for anyone in public office," he said.
Community-minded
Wilcox said he had been fortunate to serve with other officials and staffers who did their best to fulfill those pillars and take care of business on behalf of citizens. He said the mission statement, "By working together, we will provide services that enhance the vitality of The Dalles," was being lived out every day at city hall.
"I've never worked with one person on this council who had a private agenda; they were doing what they thought was best for the community," he said.
He said the poem "Am I A Builder" by an unknown author had also registered strongly with him because it challenged him to weigh each decision that was made by its potential for advancement or destruction. He read the poem about a group of laborers tearing a building down and how their foreman acknowledged it took far less time to do that than it had to erect the structure.
"Which of these roles have I tried to play? Am I a builder that works with care, measuring life by the rule and square? Am I shaping my deeds to a well-made plan, patiently doing the best I can? Or am I a wrecker who walks the town, content with the labor of tearing down?" read Wilcox.
He said the council had striven during his tenure to improve the quality of life for residents, although that had sometimes required tough calls such as raising water bills to replace aging infrastructure.
He said in an effort to increase dialogue with citizens, the council had begun holding town hall meetings twice each year to hear the concerns of community members that sometimes often spurred action.
For example, he said the ban on burn barrels had followed a citizen complaint at a town hall that resulted in the formation of a citizen-led work group with people from varied viewpoints. He said the advisory panel had come up with a compromise plan to protect air quality by eliminating burn barrels, which were often used by people to get rid of household waste, while ensuring that yard debris could still be gotten rid of with open burning for several weeks in the spring and fall.
Wilcox said citizens had also joined government leaders on a special committee to identify barriers to economic development and find ways the city could remove those impediments.
Accomplishments
He had compiled a list of 51 projects that had either happened during his tenure or were in the process of being finalized. On that list was the ability of the elected body, working closely with staffers, to keep the budget in the black at a time when many communities are grappling with large deficits – without having to reduce staff or eliminate services.
As a result of good financial management, he said The Dalles had the highest credit rating in the state, which resulted in lower bond and insurance rates.
Left undone, said Wilcox, is simplification of the sign ordinance, which is now 32 pages long and has a lot of confusing language. He said the revisions are being worked on by the planning commission and will be presented to the council at a future meeting.
The expansion of the Urban Growth Boundary into the Columbia Gorge National Scenic Area is "not even close" to any kind of a resolution, according to the mayor. He said the city has already invested $1 million into the proposal to increase its land base to accommodate population growth but that money had not resulted in much progress.
He said upgrades to the water system, including replacement of a wooden line that is more than 100 years old, are in progress but won't be completed for several years.
Use caution
Wilcox warned the council, which will include Linda Miller, who defeated Brian Ahier, Bill Dick, Dan Spatz, Tim McLoughlin and Carolyn Wood in 2013, not to "be a checkbook" for redevelopment of the Granada block. He stated at a prior meeting the belief that the city and Columbia Gateway Urban Renewal Agency, comprised of councilors, are expending too much capital to aid Rapoza Development, a private corporation, in constructing a high-end hotel and conference center on six downtown parcels.
He said the city charter needed to be changed to provide the mayor with a three-year term instead of two years and provide him or her with the opportunity to vote on issues instead of just voice an opinion.
"The mayor is elected by the community and should be allowed to vote," he said.
Wilcox also said a mechanism needed to be provided in the charter for a person to sign official documents if the mayor objects to the decision.
"My good name is all I've got and there are times I didn't want to sign things because I didn't support them," he said.
Wilcox ended his farewell speech by saying, "I encourage our council to continue to be energetic builders," and quoted these words by President Harry Truman: "I never gave anybody hell; I told them the truth and they thought it was hell."
He hands over the mayoral gavel to incoming mayor Steve Lawrence at the Jan. 14 council meeting and then intends to spend a lot more time with his wife, Lynn, and their two grown sons. He also plans to continue walking city streets regularly with Irwin, the Welsh corgi and German shepherd mix, that was a stray he adopted in 2011 from Home At Last.