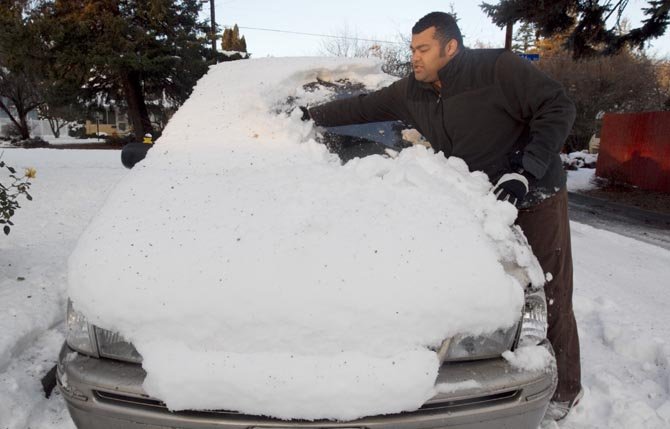 Editorial from The Dalles Chronicle.
The first snowflakes of the year are usually met with cheers by children hoping for time off school, but for adults, it's a different story.
To those with a driver's license, snow usually means slick roads, white-knuckle driving moments and fender benders.
Some people who end up in a ditch, against a telephone pole or exchanging information with the driver whose car they slid into can put it down to bad luck. But there are plenty of cases where such accidents could have been prevented.
Please, let's do what we can this winter to prevent car accidents — minor or serious — from happening.
Often the problem stems from overconfidence. Even the best drivers in the world are susceptible to sliding on ice, but somehow there are still people every winter who think they can go the same speed or stop the same distance away from a stop sign even though conditions have changed. Most people have had at least one experience of seeing someone zip past them on icy roads, only to pass the same driver a minute or two later as they reroute traffic around the accident they just caused.
There is no shame in slowing down on icy roads. It is easy to feel embarrassed about what the person behind you might be thinking, but sliding into a parked car as everyone drives past and stares is more embarrassing.
Another problem comes when people follow the person in front of them too closely. Again, when conditions change, driving habits should too. Even if you think you have it perfectly under control, the person in front of you is probably bracing for impact every time they stop at a red light, and your tailgating might be prompting them to drive faster than they are comfortable going in those conditions, which could also lead to an accident.
Usually it is better to be a couple of minutes late than to be unsafe. If it isn't, then bad roads should be a signal to leave the house earlier than usual.
Sometimes making the drive to work or school safer is as simple as taking a different route than usual. It can be worth the extra time it takes to travel farther east or west to find a gentler slope or better-plowed road. In other cases, it's knowing when to not venture out at all, or not use a vehicle without snow tires, that can make the difference.
And, of course, it should go without saying that drunk driving, driving while texting and other forms of impaired and distracted driving, while always foolish and irresponsible, are especially so when conditions are bad. Drivers willing to risk their own lives often don't think about the way they are endangering others' lives as well.
Parents have a responsibility to teach their teenagers the same lessons before they give them the keys on a snowy day. Driving in the snow and ice doesn't come naturally to those who haven't done it before.
No matter how good our driving is, we can't control the actions of others. In the course of our work we respond to, and see reports of, far too many accidents caused by drivers who ran a red light, blew through a stop sign or didn't look both ways before pulling out of a driveway or intersection.
It is better to be a good defensive driver and pay close attention to whether a driver looks like they have any intention of stopping than to blithely assume every car coming up to a stop sign will obey the law.
Good luck driving this winter, and we hope we don't see you at any accident scenes.