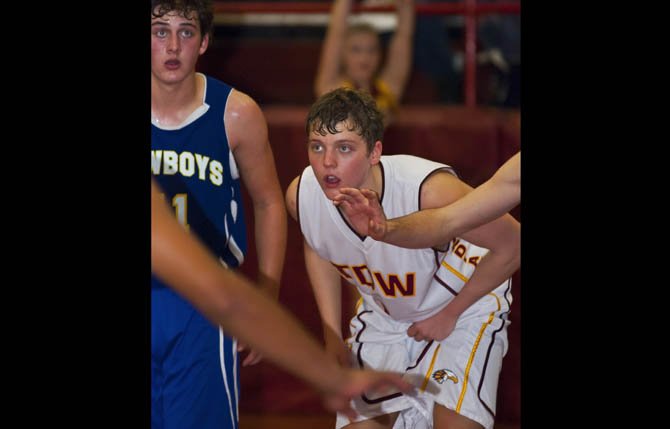 The Dalles — The Dalles Wahtonka head coach Bob Townsend and all-league center Grayson Byers said this part of the season is very important for the Eagle Indians.
Tuesday put this group on a good path.
Byers scored 12 points, seven players hit field goals and TDW outscored Crook County in every quarter of play in its 55-34 victory Tuesday in boy's basketball play at Kurtz Gym in The Dalles.

"We need to play well and get our confidence up before we go into league, so it would be good to get a couple of more wins in and build from there," Byers said. "We played really well tonight. It was probably one of the best games we have had as a team. Everyone had a good game and everyone contributed on offense and defense."
In all, TDW shot 24-for-56 from the field, and Zach Nerdin added 11 points and Steven Bartells chipped in
with 10 to lead the doubledigit scorers.
To start the game, the Eagle Indian defense gathered some steam in the opening 13 minutes by holding Crook County without a field goal.
With 5:01 left in the second quarter, Cowboy guard Preston Washechek (teamhigh 11 points) hit a layup to draw his squad to within a 13-6 deficit.
Crook County would then add field goals 30 seconds apart to make it 15-10, but they would go another 2:52 without another hoop.
In that span, TDW got points from Connor Mathisen, two by Nerdin and a steal and a layup by Hunter Malcolm to extend the tribe lead to 23-10.
Crook County's Troy Benton added a 3-pointer, but TDW followed with scores by Clay Copper and Byers, and then Malcolm beat the buzzer with a layup to give TDW a 29-15 halftime advantage.
TDW maintained its edge in the third frame with a 14- 12 effort to lead 43-27, and in the first three minutes of the fourth quarter, Bartells hit consecutive baskets, and Mathisen added a jumper to swell the lead to 49-27.
Over the final 5:10, Crook County outscored TDW 7-5 to produce the final margin.
The cowboys managed to hit on 9-for-40 from the field
(5 of 21 in the second half), and added 19 turnovers. On the glass, Crook County was outrebounded 30-19.
It marked the second straight time TDW has allowed fewer than 40 points to an opponent. In three home games, all wins, TDW gives up 40.3 points a clip.
"We picked up our de- fense and that has been our strong suit," said Townsend. "Holding another team under 40 at home is right where we want to be. We are going to have some trouble scoring, but if we are holding teams to 40, then we got a great chance to win."
TDW (3-4 overall) heads to 6A Aloha (3-5) for a 7:15 p.m. tip Thursday.