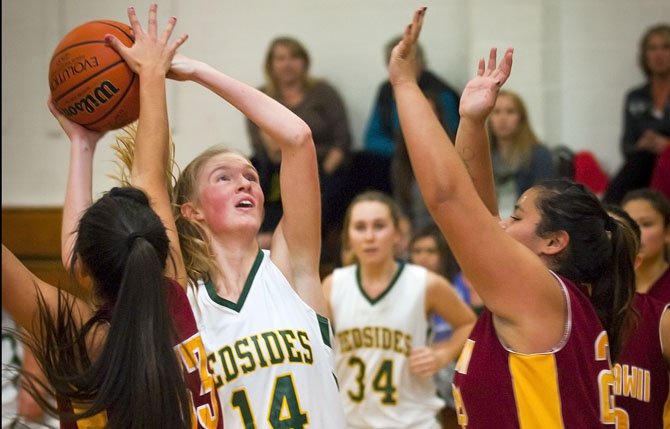 Maupin — Still licking their wounds after a 0-2 tournament run last weekend in Culver, the South Wasco County Redsides came out with a sense of purpose against Griswold.
Zoe Morelli and Rebecca Morelli combined for 26 points, and the Lady Redsides used a 28-8 first half run to roll past the host Grizzlies 53-24 in Big Sky Conference girl's basketball action in Helix.
"It was good to get back on the right track with a road win," said SWC head coach Ron Townsend.
SWC had the winning formula working in the first quarter with a 15-0 effort giving them a big cushion.
The Redsides then worked a 13-8 split in the second frame to go ahead by 20 points, before landing the knockout blow in the third quarter with a 17-3 surge to go up 45-11 after three frames.
Zoe Morelli led the of- fense with 14 points, and Rebecca Morelli netted double digits with 12 of her own.
The sharpshooting trio of Jordan DiBartolo, Joy Kelly and Roxanne O'Neal added six points apiece, and new- comer Katherine Popchock rolled in five points.