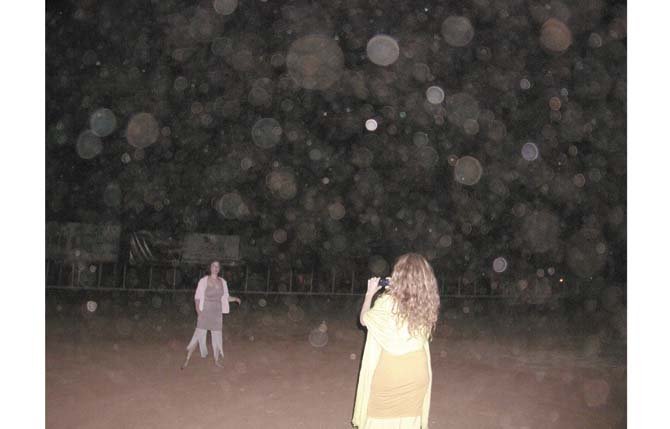 Clyde Sanda purposely didn't read up on John of God, a famed faith healer in Brazil, before he went down to see him in September to mark his 60th birthday.
He wanted to experience and evaluate for himself the healer made famous by Oprah. He came away convinced, noting that the three things he sought help on have all improved.
Sanda, a chaplain for Heart of Hospice, which cares for the terminally ill in their final weeks, wanted to do something spiritual for his birthday, but nothing was clicking, so he "left it to the universe" to show him the way.
Then, two things happened: a friend invited him to visit John of God, and shortly thereafter, a daily e-mailed motivational message he receives urged recipients not to stall on any other messages recently received, saying, "you know why you got this message, just do it."
So he did.
He and his friend headed to Brazil, where they spent three weeks in the town of Abadania, where John of God works out of a simple stucco "casa" in need of a fresh coat of paint. He saw the healer — who is 70, married with two kids, and a devout Catholic — three times.
"You're in front of him for a matter of seconds," said Sanda. "You feel the unbelievable serenity."
John of God, who dislikes that term and simply calls himself "Medium John," sees perhaps a thousand people each of the three days a week — Wednesday through Friday — that he does healings.
"He's what they call a full transmedium. In other words, these entities, these people who have lived 100 years ago or more" enter his body. He's been doing healings for 50 years.
"They're the ones who do the healing, not him. Actually, God does the healing, not any of them. He's a conduit. The healing goes through him, and he's somehow able to be receptive to this."
"I talked to him when we were sitting in the parking lot. But when you go in front of him, he is not him, some other entity has entered into his body. When I first saw him, he was leaning over to his left, his face was puffy, his eyes were bulging."
But later, "he was upright, he was spry, he looked 20 pounds lighter. He changes shape. That's how they know which entity is inside of him, based on how he looks."
It is a highly organized event to visit John of God. Seekers first go through a "current room" where many others are meditating on their behalf and on John of God's behalf.
"What they're doing is energy work," Sanda said. "In the Bible, it would be the laying on of hands, so these people are bringing in energy to support John of God."
As Sanda approached the healer, in the "first-time line," he handed a translator a note listing three things he wanted to work on: his relationships with his sons, his chronic bronchitis and his acid reflux.
The requests are relayed to John of God in his native Portuguese, and he recommended Sanda come back for "spiritual surgery." The next day, he came back and went into the surgery line. Then he was in a room with about 50 others, eyes closed, meditating on what he wanted healed. John of God does the "surgery" for everyone in the room, all at once as a group.
The surgery is treated as if it was a physical one, and those who've had surgery are told to go back to their room and lie down for 24 hours, to not even read or write. They are not even to walk, so he took a taxi for the quarter-mile ride back to his bed and breakfast.
The B and B, which included three fresh, home cooked meals daily, cost just $40 a day. The meals were even delivered to his room when he was recovering from surgery.
John of God charges nothing for his services, but those who have had surgery are told to buy herbs, made from passion flower, which cost $30. If people can't afford it, they aren't charged.
"Everybody takes the same herbs, but they all have a different energy put into them," Sanda said.
Sanda said he was initially skeptical about any potential money-making aspect of John of God's services. But he learned that John of God donates heavily to the poor, and runs free clinics throughout Brazil.
And though Sanda calls himself a skeptic, he said, "I am open to the fact that I do know there are things out there that we cannot normally explain."
Because Sanda sought spiritual more than physical help, he quickly felt better after his surgery. "It was like this load was lifted off me," and his enforced 24 hours of down time were tough.
He felt a release from negative energy and guilt. He was told to come back in a week for a checkup, "and he said I'm fine and to just go in the current room."
And so he found himself meditating with 100 others in the current room, offering love and support to other seekers and to John of God. He's meditated for years, but can normally only manage 40 minutes before he's done. But there, he did a three-hour stint that flew by, despite being in a hot, un-air-conditioned room.
Like a lot of people, he got more out of meditating for others than he did with his own surgery. Sanda ended up doing six or eight of those meditation sessions. "It's so hard to describe this because it's all energy. There's nothing you can tangibly say. Clearly a lot of healing goes on. The support people in the current room, they're being healed as they're supporting."
Sanda said 99 percent of the healing John of God does is spiritual healing, "it may result in physical healing, but he does it in a spiritual way." He does physical healings "for the skeptics."
Sanda watched from 30 feet away as John of God stuck a seven-inch pair of medical scissors, called a hemostat, clear up a man's nose, without harming him. The man wasn't sedated.
"Stuck it right up his left nostril and twisted it around. The guy who was up there didn't even bleed. The point is, look at this from an energy level. You've got all this negative energy in you and it's stuck and what this does is it releases the energy."
He said seeing the hemostat man definitely helped ease his skepticism.
"Nobody's going to stick a hemostat seven inches up my nose." And, actually, even if he was up for it, he wouldn't have qualified, because only those between the ages of 18 and 52 are accepted for physical surgeries.
He talked to a woman who had John of God scrape her eyeball with a knife as she lay on a table, again without anesthetic.
"The symbolism is that a lot of things that go wrong in your life are that you're looking at them wrong, so he's cleaning your lens," Sanda said. "If you're looking at the world through fear, he's changing that."
John of God also allows people to film or photograph physical healings, and a well-known Youtube video, shot by a Colorado doctor, shows a woman having her side cut, and John of God dug his fingers in the wound, again without anesthetic. The doctor then met the woman she'd videoed two days later, and the wound was almost healed.
Sanda said John of God could heal without the physical displays, but he does that just to satisfy skeptics.
"People need to see something."
Sanda went back to see John of God a third time — on his birthday, Sept. 21 — as a last-minute decision, since he wouldn't be back for the one-week
follow-up visit. He told John of God it was his birthday, and the healer gave him a white rose.
"I just asked for one thing, that was total well being: spiritually, emotionally, physically. It's my birthday," he joked. "I can ask for what I want."
In addition to feeling better physically, Sanda said his relationship with one of his sons has "definitely improved."
As for his other son, he said, "If nothing else, I'm at peace with the relationship. I deal with this with my patients all the time. Family issues are probably the biggest thing I deal with in hospice."
He said for most of his patients, "somewhere along the line they [angered] a kid, or brother or sister. I've got people who are [angered] at their mother. Forgiveness issues are the biggest I deal with in Hospice, by far."
He said his attitude is "it really is OK, we're all OK. And we just need to accept life the way it is and do as much forgiving of ourselves and others as we can."
Sanda also did a session where a seeker lies down while crystals are placed on what are called the seven chakras, or significant locations on the body. In his second session, he suddenly felt so much pressure on his chest that he thought he was having a heart attack. He couldn't breathe or sit up. He thought he was going to die. Then, the pressure released with "this giant suction. It was amazing. I was almost in tears."
He talked to another man, a skeptic, who confided he had the same experience. "He described almost exactly what I just described to you. He was in tears, he was crying uncontrollably. And he's a physicist.
"When he left, he looked at me and he said, 'You know, there's a lot of stuff here that I can't explain.'"
That would include the floating orbs he and Sanda saw – and even photographed. "I've got a picture with hundreds of them, hundreds."
There are "thousands of them right in the parking lot by the casa."
Sanda brought home a video from Brazil, and he's shown it to several groups. Regardless of where they fall on the spiritual spectrum, their reaction is the same, "just one of amazement or awe. I think people want to be believe. This guy is so simple, they don't tout that it's a miracle cure, they actually shove a lot of the responsibility on yourself: 50 percent of the healing comes from you. You have to want to heal."
He said John of God doesn't preach anything. He just starts and ends every session with the Lord's Prayer and reciting the Hail Mary, a Catholic prayer. But it's very inclusive religiously, with a letter from the Dalai Lama on display, as well as Hindi and Jewish items.
"It's very inclusive. Everybody's accepted there, whether you're a believer or non-believer."