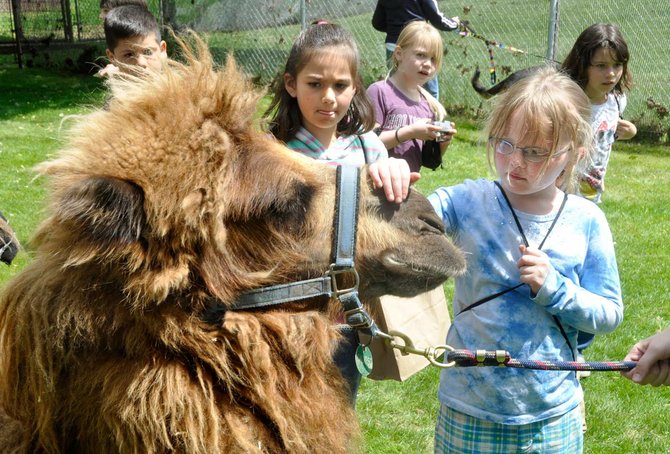 Dallesport — What's a camel's favorite food? If that camel is Calypso from Schreiner Farms in Dallesport, Wash. then the answer is Wheat Thins.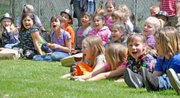 That's what John Schreiner, who runs the exotic animal farm with his brother Joe, told students Friday as he showed them a few tricks he had taught Calypso and then led the camel around the yard with their teacher astride, much to the delight of the giggling students.
Schreiner worked with Dallesport Elementary Principal Martin Huffman to put on the third annual Second Grade Safari that day, showing second graders from area schools on both sides of the river a behind-the-scenes look at his farm.
The students were given a tour of the giraffe barn and were able to hold out branches to the hungry giraffes, in some cases luring one close enough to pet.
They also got to see the baby emus and other birds that had recently hatched, touch a hollowed-out ostrich egg and watch wallaroos, zebras and other unusual animals through the fences.
The children learned that animals are not so different than them.
The students also spent time at nearby Horsethief Lake, where they were introduced to a host of crisis responders like LifeFlight, the Klickitat County Sheriff's Office, Skyline ambulance drivers and the Red Cross.
"We want them to meet these people so we can tell them if a guy shows up in your bedroom dressed like that he's not there to hurt you," Huffman said, pointing to a firefighter in full gear. "We want them to know there are real people behind the uniforms."
Huffman said the event was about showing kids all the people in the area who were there to help protect their wellbeing and also helping them see that animals need care and feeing just like them.
"It's teaching them about taking care of each other and people who are different too," he said.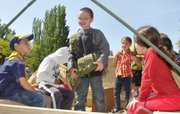 The students were able to try on equipment, ask questions and listen to advice from the various service providers.
After visiting the farm and lake the students headed to Dallesport Elementary for lunch and ice cream. They watched skits about being kind to others and listened to their teachers read books about bullying.
Scholastic Books, which brought along Clifford the Big Red Dog and Curious George, provided each student with their own copy of an anti-bullying book to take home.