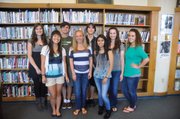 Eight members of the Class of 2012 and nine current seniors at The Dalles Wahtonka High School have been given the title of AP Scholar based on the number of Advanced Placement tests they passed.
The College Entrance Examination Board awards the title of AP Scholar every fall to students who have passed (with a score of at least three out of five) at least three advanced placement exams, earning college credit for those courses.
For the Class of 2012, Shirley Allen, Luke Conklin and Ava Green each passed three tests; Lettie Young, Brita and Brenna Meyer passed four and Gavin Schmidt passed five. Logan McDowell earned AP Scholar with Distinction by earning higher than a 3.5 on five exams.
So far in the current senior class Michael Morin and George Zenker have earned AP Scholar with Honor for passing four exams with an average of at least 3.25, while Finley Brogan, Anna Daggett, Lindsey Ellett and Madi Rotter have all passed three exams. In addition, Carolina Gutierrez, Katie Mazeski and Grant Pearson passed at least three exams but were not initially identified by the board because of surname changes or other reasons and are working to correct their status.
Each of those students will have a chance to add to their totals when they take exams for their current AP classes in the spring, and more seniors could be added to the ranks at that time.
The Dalles Wahtonka's Advanced Placement classes are open to any student who wants to enroll and most of the classes are used as an honors version of a core class, allowing students to get a head start on college credit by taking classes like AP World History instead of Global Studies.
According to Newsweek, the average Advanced Placement exam score earned by all public school AP students in the country is 2.8. The Dalles Wahtonka's average is 2.86. Tim Zenker, an AP teacher, said The Dalles Wahtonka is doing very well considering it is beating a national average that includes many larger and more affluent schools.

Nick Nelson, principal, said one of his goals is to continue to strengthen the Advanced Placement classes to make them a strong option for students.
AP Scholar Madi Rotter said she and her friends take Advanced Placement classes in order to challenge themselves and to become better prepared for college by improving their writing and critical thinking skills.