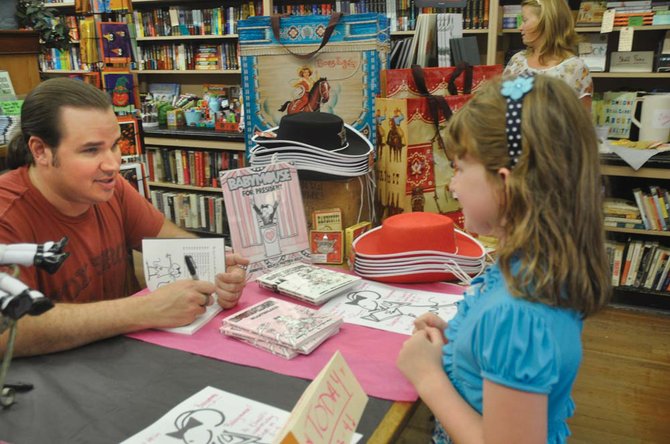 Elementary school students dragged their parents to Klindt's Booksellers last week to get a signed book after author Matthew Holm visited local elementary schools on Sept. 19.
Holm is one half of the brother-sister team that creates the Babymouse and Squish graphic novel series for kids.
Aby Griffin, 9, said she likes the Babymouse books because the heroine, a young mouse who daydreams up all sorts of challenging adventures while also dealing with her own real-life problems at school, is a fun character to read about.
"I like if she has a problem she's always able to solve it," she said.
Alexandria Rector, 8, said it is really hard to pick her favorite book but one of her favorites is when Babymouse thinks she is a rock star.
"I really like all of them actually," she said.
When Holm gave presentations at the local elementary schools he told the students about how he got started and what it's like to be an author, then let them ask questions. At the end he did some live drawing where he let a few students tell him what they wanted to see Babymouse pretend to be next.
Holm said he feels that the graphic novel format is a great one to draw in "reluctant readers" because it is fast-paced and the drawings help students comprehend more of the plot.
"Kids say 'Wow I was able to read a whole book by myself, I've never done that before.' It's a 100 page book but it moves very fast," he said.
Holm said he always loved drawing cartoons but wasn't sure how he could make a living off of it. He drew political cartoons for his college newspaper but majored in English with an emphasis in nonfiction magazine writing and became a writer at Country Living magazine.
Meanwhile his sister, Jennifer L. Holm, was gaining fame as an author of historical fiction like Our Only May Amelia. One day she sketched a little mouse on a napkin, took it to her brother and said "We should do a series about her."
"She grew up with all brothers and we always had lots of comic books around, and she felt like there were no good girl comics, except for maybe Wonder Woman running around in her gold underwear. She was interested in making the comics she would have wanted to read growing up," he said.
So Babymouse, a spunky, adventurous little mouse was born, and eventually picked up by Random House despite the fact that no one really did comic books for young children at the time.
Holm and his sister brainstorm ideas for the book together, drawing from their experiences growing up. Next Jennifer writes the first draft in storyboard format. Matthew then edits it and makes suggestions. After they get approval from their editor he begins sketching. They work long distance, with Matthew in Portland and Jennifer in Los Angeles, which could be advantageous.
"We're not there to get on each others' nerves," Matthew said.
He said he hears from librarians that a fairly equal number of boys and girls check out the Babymouse books, despite their female heroine and pink cover, but recently he and his sister decided they needed to create a new series with a boy as the main character. That's when they created Squish, a young amoeba who lives in a pond with people like his friend Peggy the Paramecium.
"We try to put bits of science in there but not ram it down the kids' throats," he said. "At the end we put in a fun science experiment."
The newest Babymouse book is Babymouse for President and Squish: Captain Disaster comes out this week.