The backpack that Mirella Barrera wears to school at Chenowith Elementary every day this year is not just a backpack to her.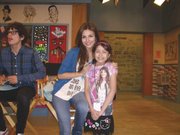 The bag is autographed by Victoria Justice — star of the Nickelodeon show Victorious, pop singer and an idol of Mirella's. The bag reminds her of her trip to Los Angeles near the end of the last school year to see the show Victorious filmed, walk around the set and meet the stars of the show, all thanks to the Make-a-Wish Foundation's mission to help children with a life-threatening medical condition fulfill a wish.
"I was excited and a little nervous," Mirella said about meeting the stars of her favorite show.
It turned out there was nothing to be nervous about. Mirella keeps a special photo album in her living room that shows photo after photo of various members of the cast with an arm around the beaming girl. And a book about Victoria Justice bears the inscription, "Mirella, you're adorable!" with lots of x's and o's.
Mirella's mother Rita said she was very grateful to the Make-a-Wish Foundation for sending Mirella and the rest of her family to Los Angeles.
"I think it was fabulous for her that she got her main wish," Rita said. "She was really happy before, counting the days and saying 'I can't wait, I can't wait.'"
She said the entire family was excited to go, even her teenage son.
While in Los Angeles Mirella and her family got to visit the set of Victorious and do a meet and greet with the cast after the show. They also got to visit Universal Studios, go shopping, ride in a limousine and visit some of Mirella's cousins who live nearby.

Rita said Mirella watched the show Victorious all the time when she was hospitalized for leukemia.
"It was like a strength to her," she said, noting the show's positive themes.
She said the trip to Los Angeles meant a lot to the family. She said since Mirella was diagnosed with leukemia the family has been through a stressful time that has included many trips to Doernbecher Children's Hospital in Portland in the past couple of years.
"It is kind of overwhelming going to the hospital for treatments all the time, so this was like a vacation for us," she said.
Rita said when Mirella was told that her number one wish had been granted she was at the hospital and still very sleepy from her treatment, but once she woke up more fully she was very excited.
Mirella said she will finish up the last of her treatments next April, a little more than two years after she was first diagnosed.
She said she likes school, especially reading and writing, so she doesn't like it when she can't go because she is sick.
When she does go, however, she brings along her autographed Victoria Justice backpack.