Anticipation was heavy on Sept. 18 as students of Mosier Middle School each received an iPad.
The iPads, paid for through an implementation grant, will be used for in-class research, making videos, in-class presentations, typing papers and accessing electronic versions of textbooks.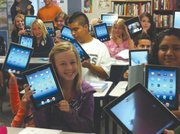 Principal Dave Sather, who became principal of the school this year, said he used iPads in his former school district in Alaska and thought they were a useful tool for teaching and learning.
"They were really invaluable in making films and for research," he said.
Sather has goals of having each student create a short film with their iPad over specific academic subjects and to explore new course offerings. The iPads will help the school save money on textbooks.
"A normal hardbound textbook can easily cost you $80 - $120 but now we can buy, let's say a Spanish textbook, for $14.99 and it has the audio and video files for greater depth – two students even want to try Chinese," Sather said.
He said several of the students are eager to explore these language textbooks and some of them will be taking German and Chinese this year.
Students were quick to start exploring the different apps.
Executive Director Carole Schmidt said that watching the excitement of the students receiving their iPads was "remarkable." She said one student explained the solar system to her using an app, revealing new knowledge with every swipe of his finger.
"He was devouring new knowledge as fast as he could read it," she said. "I'm thrilled we can bring this opportunity to our Mosier students."
The iPads were paid for through the implementation grant for the Mosier Middle School, which is in its second year. Applications for the school are still being accepted in grades 7-8.
For more information about Mosier Middle School, a charter school, visit https://sites.google.com/a/nwasco.k12.or.us/mms.