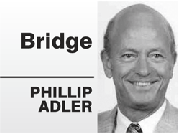 William Lyon Phelps was a popular columnist and public speaker who taught the first American university course on the modern novel. He said, "If at first you don't succeed, find out if the loser gets anything."
At the bridge table, a loser usually gives a trick to the opponents. Sometimes, though, taking that trick can be costly. In today's deal, what should be the result in four spades after West leads the club king?
Note East's balancing one-no-trump overcall. This shows only 11 to 15 points. With a normal strong no-trump, East doubles and rebids in no-trump.
South's three-heart rebid and North's jump to four spades were aggressive but reasonable. North liked his three-card spade support, a ruffing value in South's second suit and an ace.
South wins the first trick with dummy's ace, plays a heart to his queen, cashes the heart ace, and leads another heart. Should West ruff with his spade 10 or pitch a minor-suit card?
In general, if declarer is about to ruff a loser, the defender should discard.
Here, if West ruffs, the contract can be made. South trumps the (say) club continuation, ruffs a heart on the board (bringing down East's king), and plays a spade to his nine. He continues with a high trump and loses only two spades and one diamond.
If West correctly discards at trick four, the play gets interesting. South ruffs, trumps a club in his hand and leads another heart. Now West must ruff! He then leads a minor, and South cannot avoid losing another two spades and one diamond to East.