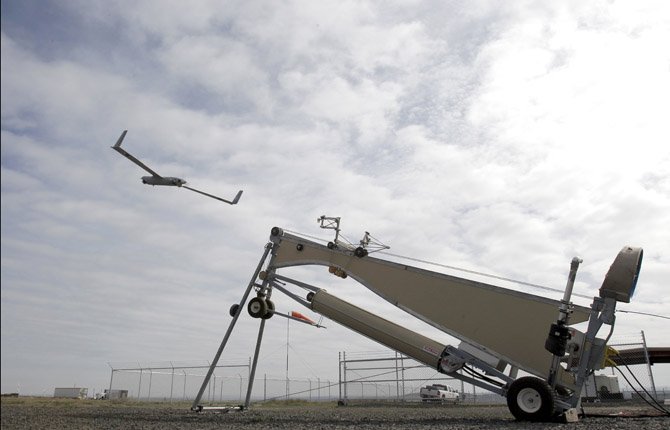 The Dalles — ­Ever since Senator Paul Rand took a stand against drones in his 13-hour filibuster they have been the talk of the country.
Until now, public discussion about drones has mostly been about overseas air strikes on terrorists. But as drone technology grows cheaper and more readily available, it is time to discuss drones at home.
Some police departments are already taking steps to procure drones to help them in their work. Last month in Seattle police purchased unmanned aircraft for search and rescue, but the program was quashed by an outcry from the city's residents, who worried that the program would be expanded to include covert surveillance of citizens.

Now is a good time to talk about rules for domestic use of drones — before they become a ubiquitous sight in our skies.
Drones have many uses beyond spying and warfare, so we don't think everyone should do what Charlottesville, Va., did recently and ban them altogether.
Unmanned aircraft can increase efficiency and save a significant amount of money when it comes to things like search and rescue missions, forest fire surveillance, bridge inspections, crop dusting, assessing a leak at a chemical plant or patrolling our borders. A recent Associated Press story reported that an annual landfill survey using manned aircraft in Mesa County, Colo. costs $10,000 but the county recently performed the same survey using a drone for $200.
As a result we don't want to shut the door on this technology altogether, just like we don't want to get rid of all satellites (which enable satellite radio and television, GPS, weather predictions and more) because of privacy concerns.
Unarmed drones could even be used by law enforcement to protect our officers by providing eyes in the sky for a SWAT team during an armed standoff, tracking a suspect during a high-speed chase or checking out a bomb threat situation.
However, that doesn't mean that we should allow law enforcement and other agencies to use drones carte blanche. Even those who have nothing to hide should be bothered by the idea of an America in which drones are a constant presence overhead, tracking and recording their every move in case they become involved in a crime.
New York Mayor Michael Bloomberg recently dismissed citizen concerns about privacy, saying he didn't see the difference between a drone and a security camera, but we do: Security cameras can't follow a specific person around the city and generally aren't pointed into anyone's back yard.
We need specific, targeted rules for drones that combine common sense with a desire to protect American citizens. The ACLU has put forth some good suggestions, including the belief that if law enforcement and other government agencies use drones they should have clear, written, public policies on drone use and that the use of the drones should be subject to audits and other measures of accountability.
The ACLU pushes for allowing agencies to retain footage, images and other data only if there is a reasonable suspicion that they contain evidence of a crime or are related to an ongoing investigation or trial. Its website also states that "Drones should be deployed by law enforcement only with a warrant, in an emergency, or when there are specific and articulable grounds to believe that the drone will collect evidence relating to a specific criminal act."
These seem like reasonable restrictions that would allow law enforcement to use the technology in investigations while also decreasing needless invasions of privacy. We know Big Brother is watching, but that doesn't mean we have to welcome him with open arms everywhere we go.