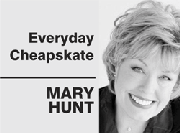 Some of the strangest looks I get are from people who just don't get why I would make my own laundry detergent. I've written about this before on my blog at EverydayCheapskate.com, but for those of you who aren't convinced, I'd like another chance to change your mind.
Cost. You're not surprised that this would be first on my list. In my own unscientific way, I have done exhaustive research on this. When a bottle of Tide or ALL laundry detergent promises "82 Loads," consider the fine print. Realistically, you have to cut that number of loads in half if you have a high-capacity washer.
My research has determined that, on average, regularly priced laundry detergent costs from $.35 to $.50 per load of laundry. That may not sound like much to you until you consider that you can make your own detergent for about $.03 to $.05 per load.
Performance. My homemade detergent just works, and that's saying a lot coming from a laundry stickler like myself. And I know exactly what's in it, too.
My whites come out white, colors are bright, and all my laundry is super clean. This homemade version is low-sudsing, which makes it perfect for the high-efficiency (HE) washers.
Time. There is another factor in play with anything homemade, and that's time. As I wrote about last year, I was very excited to find a super fast and super easy homemade laundry detergent recipe at a fun blog, OneGoodThingbyJillee.com.
The recipe uses one of DPL's favorite products — Blue Dawn Ultra — in place of Fels Naptha bar soap. And this requires no cooking and is low-sudsing.
QUICK AND EASY LAUNDRY DETERGENT
3 tablespoons borax
3 tablespoons washing soda
2 tablespoons Blue Dawn Ultra
Find a 1-gallon container with a tight-fitting lid. Pour in the borax, washing soda and liquid Dawn. Add two cups of very hot water. Apply the lid and shake until the soda and borax have dissolved. Now, fill the container with cold water. Reapply the lid and label the container. To use: Add 1 to 2 cups to each load of laundry depending on the size and soil levels.
This recipe multiplies well, so I make 3 gallons using this conversion, which is slightly more concentrated:
3/4 cup borax
3/4 cup washing soda
3/4 cup Blue Dawn Ultra
I have experimented with the amount to use in my high-efficiency, high-capacity, heavy-duty LG Wave Force washer. I started with 2 cups for a full load (this detergent is not thick — actually it is quite thin and watery). However, I noticed that clothes were ending up slightly stiff and scratchy, a good indication that the soap had not been rinsed out. So I cut back and found that with my converted 3-gallon recipe, 1 to 1 1/2 cups works perfectly. For smaller loads, I cut back accordingly.
I am over the moon about this recipe because it is fast, easy and super-effective.
Mary Hunt is founder of www.DebtProofLiving.com.
To find out more about Mary Hunt, please visit the Creators webpage at www.creators.com.