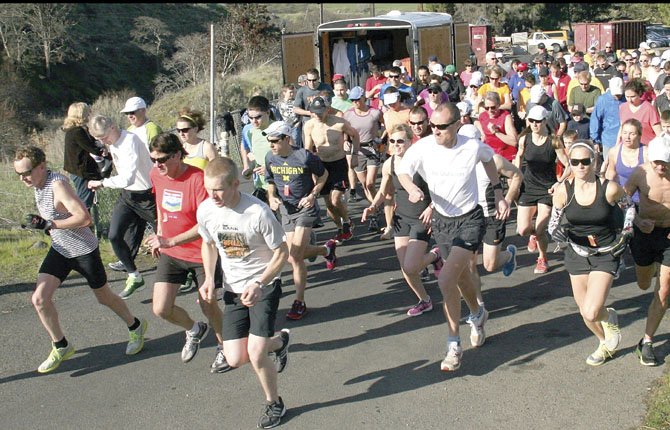 It was an ideal day for running, with there being no rain, snow and wind in the forecast.
The 60-degree weather brought out the best times possible for the 2013 Wheatfield 3k, 8k and half marathon Saturday at St. Petersburg School in The Dalles.
Event coordinator Bob Thouvenel was more than pleased with the overall turnout, as 175 running enthusiasts went to work for one year of bragging rights.
In all three distances, only a combined four minutes and 47.3 seconds made the difference between first and second place in the overall standings.
On the 3k front, Gary Furuyama grabbed top honors with a final marker of 13:08.3, as he topped Kevin Edwards by 31 seconds.
David Wring put out his best effort, but wound up third with a time of 13:49.0 and Liam Brewer claimed fourth in 14:02.1.
Taitum Schaap (14:05.9), John Iremonger (14:10.9), Joe Kregal (14:38.6), Cole Kortge (14:47.7), Kelton Schaap (15:07.1) and Elizabeth Nisley (16:40.4) rounded out the top-10.
Tim Vandervlugt had no issues whatsoever in winning his 8k race, winning by a margin of more than two minutes with a reading of 27:35.3.
Ben Iremonger crossed the line in second place with a time of 29:51.6, and Chad Muszynsi motored his way to third place at 30:04.9.
Randall Jones added fourth-place recognition for his mark of 31:47.9, Carissa von Koch garnered fifth in 32:21.8 and The Dalles Wahtonka High School cross country and track standout Maddie Wood crossed the tape in 35:51.0 for sixth place.
Curtis Roth (35:52.3), Erick Haynie (36:00.3), TDW High School athlete Emily Morin (36:41.6), Stephen Bradley (38:08.0), Eric Nisley (38:26.0) and Janelle Adams (40:01.7) brought in the rest of the 52 participants and the top-12.
John Liccardo cruised home for an early prize where his output gave him half marathon bragging rights with a top time of 1:18.38.4.
Ian Little came close, but had to settle for second place where he stopped the watch in a respectable 1:20.38.3.
Charlie Remington pulled out a third place ribbon for his 1:21.49.5, Gary Daubenspeck added fourth in 1:23.52.4 and Emma Chaput battled it out for fifth place where her time settled in at 1:29.01.0.
Erin Ford (1:32.17.5), Clifford Banister (1:34.44.8), Rolf Vellek (1:35.2), Andrew Grittman (1:35.53.4), Mandi Williams (1:36.44.7), Madeleine Seller (1:36.48.3) and Darryl Houghtelling (1:37.55.2) strutted in from this long distance for top-12.
For more information on other events going on in the Pacific Northwest, interested parties can go to www.columbiagorgerunningclub.com.