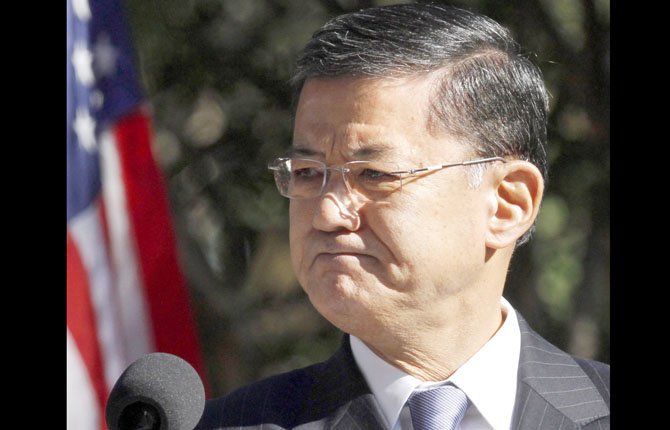 The number of veterans waiting longer than 240 days to get disability claims processed by the U.S. Department of Veterans has jumped to 800,000 in the past four years.
Despite the Obama administration's Joining Forces initiative to rally national support for troops who return from combat, the number of veterans waiting long periods of time for assistance is now hovering near the one million mark.
That situation has led to recent calls from veterans groups and U.S. Rep. Jeff Miller, chair of the House Committee on Veterans' Affairs, for the resignation of Allison Hickey, the VA's undersecretary for benefits. They contend the VA is required by law to do everything possible to assist those who have served and is failing in that mission.
"When you have a company, any company, that doesn't perform, you fire the CEO," said Shad Meshad, head of the National Veterans Foundation and a former combat medic in Vietnam, during a recent press conference.
"We tell veterans don't shoot yourself, don't shoot your wife, just stick with it and we'll see what we can do while you wait two years for your benefits."
Veterans Affairs Secretary Eric Shinseki said in a March 24 speech that the backlog has been created by an outdated system of paper records. He said upgrades to the federal agency's computer systems that will accommodate the digital filing of claims will speed up the review process.
Shinseki has set the goal to have an electronic filing system in all VA offices by the end of 2013 and every claim processed within 125 days with 98 percent accuracy by late 2015.
Hickey recently submitted information to Congress showing that, with the war in Afghanistan now in its 12th year, claims submitted by post-9/11 veterans have grown to more than four million. That is more than double the number of conditions claimed by veterans of the Vietnam era, who are also experiencing a number of illnesses presumed to be linked to Agent Orange exposure.
Vietnam veterans represent the largest group in the current claims gridlock at 37 percent, according to Hickey. She said the rules for connecting PTSD (Post Traumatic Stress Disorder) to service have been loosened, paving the way for more claims, and nine diseases associated with service in the Gulf war have been added to the presumptive conditions that qualify for federal assistance.
Hickey said improved battlefield medicine also has meant that more young veterans are surviving combat duty but returning home with claims for very complex injuries.
Despite the fact that more than 940,000 veterans had been added to the compensation rolls — more than are on duty in the active-duty Army and Navy at the current time — Hickey said the VA has completed a record-breaking 1 million claims per year for the past three fiscal years.
Her assertion has drawn fire from veterans' groups who contend that number was reached by the VA processing the easiest claims and not those for more difficult mental and physical health problems.
Russell Jones, Wasco County veterans services officer, said the situation might be helped by the VA's establishment of "centralized regional hubs" to process claims by type. For example, he said disability issues will be handled by an office in San Diego, Calif., where people with expertise in that particular field are on duty.
"The idea is to have specialists who know the issue really well," he said.
Jones invites any veteran with questions about a potential claim to call his office, 201 Federal Street, at 541-506-2502 and schedule an appointment for a consultation. He can also be reached at russellj@co.wasco.or.us