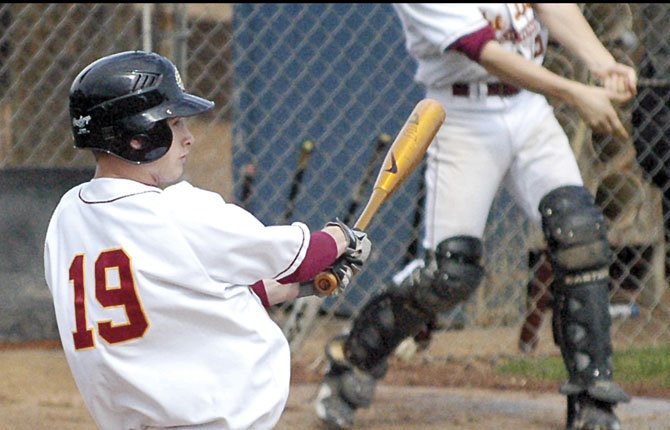 Monday's BB Box
TDW 8, Centennial 3
TDW 100 010 6 — 8 10 2
CEN 110 021 x — 3 4 1
Austin Wilson, Clayton Ringer (5), Steven Bartells (6) and Clay Copper. W: Bartells. SO/BB: Wilson 3/4; Ringer 1/0; Bartells 3/0.
---
OFFENSE: 2B: Bartells (TD).
TDW: Justin Sugg 2-3 run, RBI, walk, sac bunt; Nolan McCall 2-4 run; Kaci Kiser 2-4 run, 2 RBI; Dakota Walker 0-1; Copper 1-3 RBI, HBP; Hunter Malcolm 0-4 run; Steven Bartells 1-3 2 runs, 2 RBI, 2 walks; Connor Mathisen 1-4 RBI, walk, fielder's choice; Kevin Henderson 2-3 RBI; Austin Wilson 1-4 run. -- LOB: 9.
The Dalles Wahtonka's six-game winning streak appeared to be gone by the wayside – three outs were all that stood in the way of a Centennial triumph.
However, this group of Eagle Indians showed some heart when their backs were against the wall.
Kaci Kiser broke a 3-all tie with a two-run single as part of a six-run seventh inning and No. 14-ranked The Dalles Wahtonka stormed back from a 3-2 deficit to secure an 8-3 victory Monday evening in non-league baseball action in Gresham.
"All in all, we never lost focus or that competitive edge to get the job done," said TDW head coach J.R. Runyon. "We had a couple things go our way in the seventh and we capitalized on that and continued to pour it on at that point. (I am) proud to see our guys never give in and never give up. It is never over until the last pitch."
Down by one run, TDW had the middle of the order coming up to bat.
Nolan McCall and Clay Copper kicked off the rally with consecutive singles, and then Austin Wilson followed with a bunt single to load the bases with no outs.
Hunter Malcolm reached first safely after a groundball hit to third base was booted, allowing McCall to score, so the game was deadlocked at 3-apiece.
One out later, Kiser smashed a single to left field to chase home Copper and Wilson to move the Tribe ahead by a 5-3 score.
Steven Bartells then stroked a two-run double to the gap in left centerfield to bring in Malcolm and Kiser and swell the lead to 7-3.
On the play, Bartells scampered to third on a throwing error with still only one out in the frame.
Justin Sugg capped the inning by driving in Bartells with an RBI sacrifice fly to left field to move TDW in front, 8-3.
Staked to a five-run cushion, Bartells came out to put the bow on a road win, but he had to deal with the top of the Eagle order.
The junior right-hander induced a comebacker for the first out, and then the next batter grounded out to McCall at third base.
Bartells then retired the side in order by striking out the final batter looking.
Wilson got the starting nod for TDW, and he tossed four innings of three-hit ball with three strikeouts and four walks.
The southpaw was tagged for three runs, two of them earned.
Clayton Ringer pitched one inning of scoreless relief, before Bartells entered in the sixth inning.
Bartells faced six batters, struck out three and did not allow a hit.
"We had some great efforts today," Runyon said. "Our pitching staff did a great job today. We did have a few defensive lapses (two errors), but we didn't let that dictate the game."
Once again, the Eagle Indian offense posted double-digit hits with 10 on the board.
Sugg, McCall, Kiser and Kevin Henderson tallied two hits apiece, and both Kiser and Bartells each drove in two runs.
Connor Mathisen added a 1 for 4 split with a walk and added a first-inning RBI to drive in Bartells, which gave the Tribe a 1-0 lead at the time.
Centennial scored single runs in the first, second and fourth innings.
The fourth-inning run came on a sacrifice fly hit by Brendan Ritschard to move the Eagles in front by a 3-1 score.
TDW inched closer in the fifth frame, using a Sugg single and a Mathisen walk at the start of the inning.
With one out, the duo advanced a base each on a passed ball and Copper cashed in Sugg on an RBI groundout to third base.
During their winning streak, the Eagle Indians have outscored opponents by a 62-12 margin.
It was another type of win put up by the Tribe in their nine thus far. In 11 games, TDW has a pair of double-digit wins, two shutouts and three of its wins have come by four runs or less.
Runyon saw a different side to this bunch in Monday's decision.
"We fought back and battled every inch of the way," Runyon said. "We left a lot of guys on base today (nine total), but their pitcher did a great job of keeping us off balanced and we weren't able to make the adjustment offensively as quickly as we had hoped."
TDW (9-2 overall) heads to Eugene for a 4:30 p.m. contest tonight against 6A Southridge.