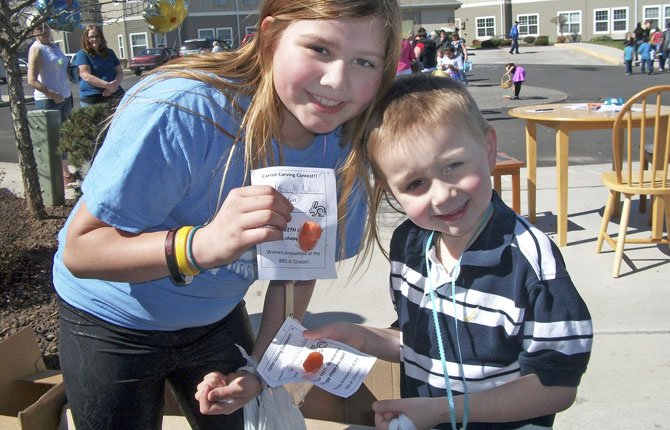 Announce your public, nonprofit activities here, 75 words or less. E-mail to tdchron@thedalleschronicle.com or fax to 541-298-1365 or drop off at the Chronicle, 315 Federal St., PO Box 1910, The Dalles OR 97058.
New Entries
SURVIVOR TEA: Relay for Life coordinators hope to bring together cancer survivors for a Survivor Tea Saturday, April 6, from 2 to 4 p.m. at Gateway Presbyterian Church, 1111 Dry Hollow Road, The Dalles.
This is the 100th Anniversary of the American Cancer Society. Relay hopes to honor at least 100 survivors at its Relay for Life Event June 22 and 23 at Sid White Field. The event opens with a Survivor Walk. Survivors and caregivers are also invited to take part in the Survivor Lunch to follow.
This informal tea will help introduce Survivors to one another and the Relay for Life community. Free sandwiches, pastries, non-alcoholic beverages, cookies, Silent Auction, etc., are planned. If you would like to volunteer to help, call Gae or Don at 541-296-1007 or email dgwimberly@charter.net.
DEMOCRATIC WOMEN: Bring a bag lunch Wednesday, April 3, and enjoy a presentation by guest speaker Joan Silver on senior health care issues relating to the Affordable Health Care Act, popularly known as ObamaCare. Mid-Columbia Democratic Women host the noon event at The Dalles Wasco County Library meeting room.
DEMOCRATS MEETING: Mid-Columbia Democrats monthly meeting will be at 7 p.m. at The Dalles Wasco County Library meeting room.
BABYSITTING TRAINING: Learn basic first aid, child development and how it relates to babysitting, business techniques, making nutritious snacks and more at 4-H Babysitting Training, Monday, April 29, through Thursday, May 2, from 3:30 to 5 p.m. Training is open to ages 11 and older. Preregistration and pre-payment are required. Cost is $15.
Deadline to register is Monday, April 22, but register early because space is limited. For details, call OSU Extension Office at 541-296-5494.
April 4
COALITION PRESENTATION: How will you be affected by Agenda 21? Lt. Robert Powell offers a presentation Thursday, April 4, at Cousin's Restaurant at 7 p.m. Seating is limited, admission is free. Refreshments and door prizes will be offered. The event is brought to the public by the Coalition for an Educated Electorate. For more information call 541-467-2371.
RELAY MEETINGS: Steering committee meetings and team meetings for 2013 begin again Thursday, April 4, for the Relay for Life of The Dalles area. These meetings will be at the Columbia Portage Grill inside Shilo Inn, The Dalles. Steering Committee meets at 6 p.m. and the Team meeting begins at 7 p.m. For more information contact Don Wimberly 541-296-1007.
MARRIAGE COURSE: Enjoy a couples date night and dessert and learn about good marriage skills at an Alpha Marriage Course, Thursdays, April 4 through May 16, from 7 to 9 p.m. at The Riverenza, 410 E. 10th Street. Participants sit at intimate tables and watch a video about topics like communication, family, sexual satisfaction, priorities, and others. Then the couples discuss these topics with one another in the small groups only. Cost is $60 per couple. Contact Gary Casady, 541-993-4279 to register.
April 5
MAUPIN LEGION: The Town and Country Players of South Wasco County will present "Uncle Phils Diner 1," an audience interaction play with music and entertainment of the 50's, April 5, 6, 13 at 7 p.m. and April 14 at 2 p.m. at the Maupin Legion Hall. Tickets $8 includes dessert. Tickets need to be purchased before performance as seating is limited. They may be purchased at Maupin Market, Tygh Valley Store or call 541-483-2253 or 541-805-5068.
April 9
LEADERSHIP SEMINARS: Beginning in April, Columbia Gorge Community College will offer a series of leadership seminars. Participants may choose the entire nine-month series or take individual seminars. Class dates are April 9, May 14, June 11, July 9, August 13, Sept. 10, Oct. 8, Nov. 12, and Dec. 10.
All classes will be held at the Hood River Indian Creek Campus, 8:30 a.m. to 12:30 p.m. The cost is $659 for the series or $89 per seminar. Pre registration is required by calling the college at 541-506-6011or online at www.cgcc.cc.or.us
April 17
PIZZA FEED: The Annual The Dalles Area Habitat for Humanity Pizza Feed will be Wednesday, April 17, from 4:30 to 7:30 p.m. at Spooky's in The Dalles.
Tickets for adults are $12, ages 7 to 14 $7, ages 6 and under $4. Tickets are available from Habitat members, the Habitat Office at UCC at Court and 5th, Klindt's Book Sellers, the Habitat ReStore on West 6th, and at Spooky's. Proceeds help build affordable housing in the Mid-Columbia.
April 20
ENDOWMENT BENEFIT: The second annual evening to benefit Jerri Walker DePriest Endowment Fund will be Saturday, April 20, from 7 to 10 p.m. at the Sunshine Mill. Tickets are $25 and include two drinks, hors d'oeuvres, and live music. Tickets are available at Klindt's Booksellers, Dufur School or the Sunshine Mill. The event is limited to 200 people, 21 and older. For more information call 541-467-2509.
April 24
OYSTER FEED: Mid-Columbia Shrine Club 29th annual oyster feed fundraiser will be April 24, from 5 to 7 p.m., at the Windseeker Restaurant, 1535 Bargeway Rd., The Dalles. Cost is $25 person for oysters, razor clams or stuffed chicken.
Net proceeds are for the benefit of Mid-Columbia Shrine Club activities. Tickets are not deductible as a charitable contribution.
April 27
CAR SHOW: The KODL Car Show will be Saturday, April 27, part of the Northwest Cherry Festival.
Entrants compete for trophies and plaques. All entrants receive dash plates and gift bags. Awards will be handed out Saturday at 3 p.m.
Look online at www.kodl.com, email ladykodl@kodl.com, or call 541-296-2101 for more information. Ask for Marcia.
May 10
GOLF TOURNAMENT: St. Mary's Academy Foundation of The Dalles will host their 4th Annual Golf Tournament on Friday, May 10, at The Dalles Country Club. Registration is limited to the first 64 players. The pre-registration fee is $100 per player, registration on the day of the event will be $125. This event helps to fund SMA's Tuition Assistance Program. In addition, there are cash prizes for both teams and individuals.
For additional information or to register, contact the school at 541-296-6004 ext 414 or e-mail devdir@smatd.org.
June 2
HAVEN RIDE: Breakaway promotions is organizing the first Gorge-us Gals Ride all-women's bike ride to benefit HAVEN, serving victims of domestic violence and sexual assault Sunday, June 2, starting at 7 a.m. at Riverfront Park in The Dalles.
This fully supported ride was created by those passionate about cycling, friendship, fitness and the desire to "brake the cycle" of violence. It includes 13-mile, 20-mile, 40-mile and 60-mile route options.
Registration is $50 online at www.gorge-usgalsride.com.
July 26
CLASS REUNION: The Dalles Wahtonka High School Class of 1983 Reunion will be held July 26 and 27. Contact Mike Urness 541-296-2284 or email: mjurness@hotmail.com for more information.
September 6
HUCKLEBERRY FESTIVAL: The 51st Huckleberry Festival will be held Sept. 6, at 5 pm. through Sept. 8. Bingen, WA. Contact Marsha Holliston at 509-493-2961. marshaholliston@gmail.com.
Ongoing
MUSEUM EVENT: In 2013, Fort Dalles Museum will join other historic venues in welcoming the Queen of the West, Safari Legacy, National Geographic Linblad cruise ships and the Tall ships.

Find out the seasonal tour boat schedule by emailing: info@thedalleschamber.com, calling The Dalles Area Chamber of Commerce Toll Free: 1-800-255-3385, Local: 541-296-2231, or stop by at 404 West Second St., The Dalles.
SOIL TESTING: OSU Wasco County Master Gardeners now offer soil testing every week through October 2013. Garden soil will be tested for nitrogen, phosphorous, potassium, pH, humus, and texture.

The cost is $25 for each sample tested. For information on how to collect a sample, contact the OSU Wasco County Extension Service at 541-296-5494, or find out online at www.extension.oregonstate.edu/wasco. This service is available to home gardeners only.
MUSEUM OPEN: Fort Dalles Museum has begun opening three days a week, Friday, Saturday and Sunday from 11 a.m. to 4 p.m. Beginning April 17, Oregon's oldest museum will also be open Mondays and Wednesdays, noon to 6 p.m. Additional hours will be added as the season progresses. Group tours can be arranged by advance reservation. If you have questions or wish to talk with someone, please email fortdallesmuseum@gmail.com or call 541-296-4547.
CONTRACTORS NOTICE: Oregon Landscape Contractors Law (ORS 671) requires all businesses that advertise and perform landscape contracting services be licensed with the Landscape Contractors Board. This 4-digit number allows a consumer to ensure that the business is actively licensed, has bond insurance and is a qualified individual contractor who has fulfilled the testing and experience requirements for licensure.
For your protection, call 503-967-6291 or visit the website: www.lcb.state.or.us to check the license status before contracting with the business. Persons doing landscape maintenance do not require a landscaping license.
AFTER SCHOOL: Thursday afternoons at Sherman Elementary in Grass Valley, a kids' cooking class was recently added as part of the afterschool program, "Sherman Kids on the Road to Excellence" (SKORE).
Led by OSU Sherman County Extension staff and teen 4-H members, and assisted by a teen employee of the afterschool program, the opportunity to cook has been well-received by enthusiastic youngsters.

The goal of the cooking program is to focus on basic skills to inspire self-sufficiency and self-confidence in the kitchen.
HEAD START: Mid-Columbia Children's Council is now accepting applications for the Early Head Start program, which serves pregnant women and children from birth to 3 years old. Mid-Columbia Children's Council's Head Start and Early Head Start programs are free. Applications are available at your local Head Start Center, library, Health Department, DHS, by calling Mid-Columbia Children's Council, Inc. at 541-386-2010, or in our website at www.mcccheadstart.org.
GENEALOGY MEETS: The Columbia Gorge Genealogical Society meets the second Saturday of each month at the Columbia Gorge Discovery Center. The public and guests are welcome. A no-host lunch starts at noon in the Basalt Cafe.
For more information, call Sandra Bisset at 541-298-1240 or email wildflowers@gorge.net. Get a membership application or more information online at http://community.gorge.net/genealogy/about.html Blog: http://cggsblog.blogspot.com. The society is also on Facebook.
MOBILE LIBRARY: The Dalles-Wasco County Library now offers a mobile app for patrons.
The new app, WascoCoLib, allows patrons to check their account, renew books, review requests and holds, search the library catalog, log onto LibraryToGo for e-books and e-audio, get library locations and directions and connect with the library on Facebook using their mobile devices.
For more information call 541-296-2815 or visit wasco.plinkit.org.
AWANA CLUB: Children 3 years old to sixth grade are invited to Awana Club Wednesday nights, from 6:05 to 8:05 p.m. at Emmanuel Baptist Church, 2819 W. 10th Street, The Dalles. Call Nate at 208-255-6397 or 541-296-2631 for more details.
DODGEBALL SEASON: Every Monday, hit the court for a classic game of Dodgeball. No experience required, just drop in Monday nights at 6 p.m. Cost is $1 at the door at The Dalles Armory, 713 Webber St.
Contact Parks and Rec for more information at 541-296-9533 or, like The Dalles Dodgeball Club on Facebook.
KNITTING GROUPS: Knitting groups meet in the libraries in both Dufur and The Dalles. All are invited to join. Crocheters are also welcome.
The Dalles Knitting Group meets Wednesdays from about 6:30 p.m., until about 8. The Dufur Knitting Club meets Thursdays, from 6 p.m. to 8 p.m.
For more information, contact the Dufur Library at 541-467-2588; or The Dalles-Wasco County Public Library, at 541-296-2815.
RELAY DATES: The year-long annual fundraiser to fight cancer, Relay for Life The Dalles area, has been set for Saturday, June 22, and Sunday, June 23, as the dates for their signature main event for 2013, Sid White Field at The Dalles Wahtonka High School West Campus, 3601 West 10th St.
Volunteers are needed this year. Contact Don Wimberly 541-296-1007 or dgwimberly@charter.net for more information.
SUPPORT GROUP: Reach support group meetings are on the last Monday of the month, 5:30 to 6:30 p.m. at Spooky's Pizza Parlor. Contact Lori Carter 541-980-9464 or www.reachthedalles.org.
KAYAK ROLL: Evening Kayak Roll Sessions have returned to the Hood River Aquatic Center on Tuesday and Thursday evenings from 5:30 to 6:30 p.m. Saturday roll sessions are from 10 a.m. to 1 p.m. The cost is $3 for In District residents and $5 for Out of District residents Check in at the front desk.