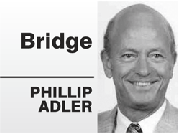 Gene Mora, who writes the "Graffiti" cartoon, used this line: "If at first you do succeed, try not to look surprised."
If you work out the right line of play in this deal, try not to look surprised! What would you do in three no-trump after West leads his fourth-highest spade?
Do not be concerned about a low doubleton when opening one no-trump. Here, if you open one club, your partner will respond one diamond. What would you do then? You would have no accurately descriptive rebid.
You start with seven top tricks: one spade (because of the opening lead), two hearts, two diamonds and two clubs. You must establish two more club winners to get home. First, though, what do you do at trick one?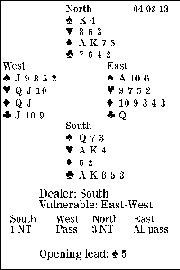 With honor-doubleton on the board, put up the honor; here, the king. (If it were queen-doubleton on the board and king-third in your hand, you would play the queen.) If East plays low, work hard to keep him off the lead, so that he cannot push a spade through your queen. Here, though, East takes the king with his ace and returns the 10. You duck and win the third spade. Now you must not let West win a trick, because he would then cash two spade tricks to defeat you.
It is time for an avoidance play. Lead a diamond to dummy's king and call for a club. When East plays the queen, let him take the trick. And when West follows suit, you are home.
If instead East plays a lower club, take the trick and cash the other high honor, hoping that West did not start with queen-third.