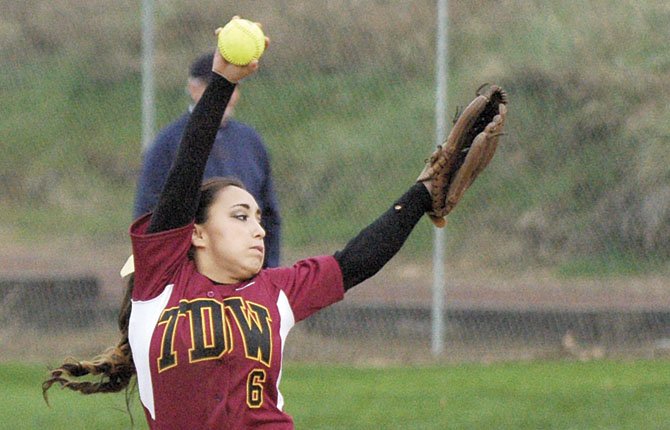 The Dalles — The Dalles Wahtonka scored three runs in the first two innings, but could not scratch across another tally the rest of the way in an eight-inning, 4-3 loss to the 6A Lakeridge Lakers Tuesday in non-league softball action in Lakeridge.
In all, TDW slugged out eight hits and had others reach on walks and hit by pitches, but eight players were left stranded in scoring position.
Down 3-0, Lakeridge came back with a single run in the fourth and tacked on two more runs in the sixth to tie the score at 3-apiece.
In the eighth frame, TDW's Melanie Taphouse walked and Katie Helyer reached on a fielder's choice to advance into scoring position with one out.
Things were looking good, but a strikeout and a groundout ended the rally.
In the bottom of the eighth, Lakeridge had the game-winning run on second base due to the international tiebreaker rules.
After a sacrifice, the Lakers eventually pushed across the game-winner on an RBI single to center field.
Morgan Triperinas got the start and lasted 3 1/3 innings, struck out one and one unearned run.
Carley Gowdy added two innings of relief and gave up two hits, and Melanie Taphouse allowed one hit, struck out one and two of the runs were unearned due to four errors made behind her.
"Melanie just ran into some unlucky plays," said TDW coach Steve Garrett. "She threw it well and did good enough to win this game. We need to support our pitchers a little bit better."
Kella DeHart went 2 for 2 with a bunt single, two sacrifices and a run scored. Carley Gowdy added two hits, a stolen base and a run. Helyer, Morgan Goslin, Taphouse and Meghan Rowland added one hit each.
Taphouse, Rowland and Katherine Kramer drove in a run apiece.
Taphouse and Rowland's RBIs came in the first inning and Kramer drove in Gowdy with a fielder's choice in the second frame.
In 11 games, TDW has amassed a 7-4 record, with all of the setbacks have come by just a combined five runs.
Three of those losses are by one run.
"I told the girls not to worry about this loss," Garrett said. "We are right there. It is we just have to stop the errors and not allow any freebees. We need to get more offense from our big hitters and get some clutch hits to score more runs."
TDW (7-4 overall) next hits the road to Portland for a game versus Westview for a softball contest at 5 p.m.
Thursday. At 4:30 p.m. Monday, the Eagle Indians head to Bend for a tussle versus Mountain View.