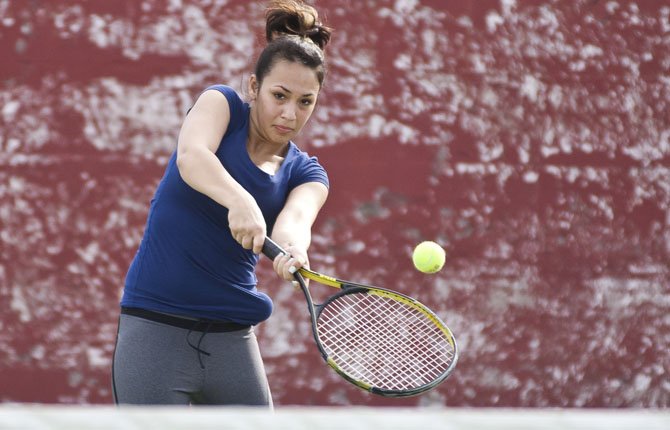 The Dalles — Although it was a tough way to kick off the 2013 league season, The Dalles Wahtonka girl's tennis squad came close in two matches at home against Hermiston in an 8-0 loss Tuesday at TDW High School.
Head coach Debby Jones remains encouraged with some of the performances she saw from her young group. The second-year coach is circling April 16 on the calendar.
"I look forward to them having the chance to play this team again," Jones said. "Playing tough competition has the opportunity to make or break the girls and I feel confident they will keep putting in the time and effort."
TDW had its best winnings shots in No. 1 singles and No. 4 doubles.
In the event opener, Anna Miller hit the court versus Katrina Vanderploeg.
The Hermiston player claimed a 6-3 win in the opener to grab early control, but Miller rebounded with authority in the second set with a 6-4 effort to send this showdown into the tiebreaker round.
Miller pushed Vanderploeg to the limit in the finale, but the Lady Bulldog athlete inched away late with a 10-7 winner.
"Anna started out a little flat-footed and easily could have become discouraged, but she dug in and pushed the match to a deciding third set," Jones commented. "Knowing she can come back from a set down is an important confidence booster for her. The next step is finishing off the tiebreaker."
On the doubles side, the No. 4 duo of Rebecca Kohltfarber and Emma Ell-Smith went to work on the other end of Hermiston's Athena Reid and Baylie Bicknell.
T-Dub's freshman pair made the Bulldog tandem sweat it out in the first game, but Reid and Bicknell had some late bounces go their way in a 7-6 win.
Only two points separated a win and a loss in the second set, but the Tribe tandem could not work any rallies in their 6-4 setback.
"Kohltfarber and Ell-Smith was a real bright spot," Jones said. "This was Emma's first match of her career and I was really pleased in their determination and the way they worked together and encouraged each other. Both girls are freshman and it was a great first outing."
In other singles matches, Shania Lewis, Brittany Watkins and Leslie Luna-Lopez each lost in straight sets.
Katie Mazeski and Johanna Wilson dropped their No. 1 doubles match to Sarah Hawman and Zoey Garcia by a 6-2, 6-1 score, and both Alma Lopez and Itzuri Hernandez suffered a 6-1, 6-2 setback against Bailey Burns and Savanna Foley.
At No. 3, Hermiston's Whitney McMahon and Kylie Markwick capped single play with a 6-0, 6-0 winning streak over Cinthia Vazquez and Lucia Cardenas.
Jones indicated the importance of Mazeski and Wilson's match against Hermiston's district standouts and added how this experience could be a benefit down the line.
"They may have been a little intimidated at first, but as the match went on, they gained more confidence," Jones said.
TDW hits the road to Sandy at 9 a.m. this Saturday for a tournament.
At 4 p.m. Tuesday, the Eagle Indians make a short trip west to hit the courts against Hood River Valley.
There are seven matches left in the regular season before district competition kicks off May 10-11 at Hermiston High School.
Jones anticipates that this group will be more polished more than a month from now.
"We are building for the long haul and though young and inexperienced right now, I believe the future is very bright," Jones concluded. "We have a very young team, but great senior leadership."