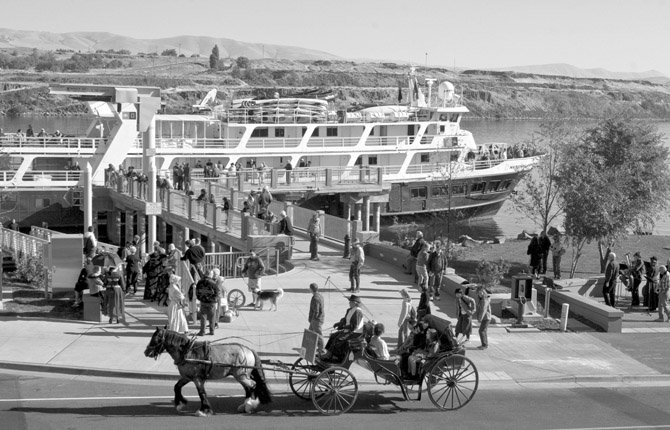 Tour boats from three cruise companies will be docking at the Union Street marine terminal in downtown The Dalles starting April 17.
Business owners may want to consider making special accommodations for passengers who want to visit local businesses and attractions (see related story, A1).
Queen of the West, Lindblad National Geographic Sea Bird and Sea Lion, and Safari Legacy.
Confirmed times and dates (subject to change):
Queen of the West tours are the only visits currently scheduled between April and early September.
Wed., 4/17 (Noon - 6PM)
Mon., 4/22 (1PM) - Tues., 4/23 (8AM) - Overnight
Wed., 5/01 (Noon - 6PM)
Mon., 5/06 (1PM) - Tue., 5/07 (8AM) - Overnight
Wed., 5/15 (Noon - 6PM)
Mon., 5/20 (1PM) - Tue., 5/21 (8AM) - Overnight
Wed., 5/29 (Noon - 6PM)
Mon., 6/03 (1PM) - Tue., 6/04 (8AM) - Overnight
Wed., 6/12 (Noon - 6PM)
Mon., 6/17 (1PM) - Tue., 6/18 (8AM) - Overnight
Wed., 6/26 (Noon - 6PM)
Mon., 7/01 (1PM) - Tue., 7/02 (8AM) - Overnight
Wed., 7/10 (Noon - 6PM)
Mon., 7/15 (1PM) - Tue., 7/16 (8AM) - Overnight
Wed., 7/24 (Noon - 6PM)
Mon., 7/29 (1PM) - Tue., 7/30 (8AM) - Overnight
Wed., 8/07 (Noon - 6PM)
Mon., 8/12 (1PM) - Tue., 8/13 (8AM) - Overnight
Wed., 8/21 (Noon - 6PM)
Mon., 8/26 (1PM) - Tue., 8/27 (8AM) - Overnight
Wed., 9/04 (Noon - 6PM)
Mon., 9/09 (1PM) - Tue., 9/10 (8AM) - Overnight (→)
The other companies are added to the mix in the fall:
Thur., 9/12 (7AM - 3:30PM) - Safari
Mon., 9/16 (7AM - 2PM) ̶ NG Sea Lion
Tue., 9/17 (7AM - 2PM) ̶ NG Sea Bird
Wed., 9/18 (Noon - 6PM) – Queen of the West
Thur., 9/19 (7AM - 3:30PM) – Safari
Sun., 9/22 (7AM) - Mon., 9/23 (5AM) ̶ NG Sea Lion - Overnight
Mon., 9/23 (7AM) - Tue., 9/24 (5AM) ̶ NG Sea Bird - Overnight
Thur., 9/26 (7AM - 3:30PM) – Safari
Sun., 9/29 (8AM - 2PM) ̶ NG Sea Bird
Wed., 10/02 (Noon - 6PM) – Queen of the West
Thur., 10/03 (7AM - 3:30PM) – Safari
Sat., 10/05 (7AM) - Sun., 10/06 (5AM) ̶ NG Sea Bird - Overnight
Mon., 10/07 (1PM) - Tue., 10/08 (8AM) ̶ Overnight – Queen of the West
Thur., 10/10 (7AM - 3:30PM) – Safari
Tue., 10/11 (7AM - 2PM) ̶ NG Sea Bird
Wed., 10/16 (Noon - 6PM) – Queen of the West
Thur., 10/17 (7AM) - Fri., 10/18 (5AM) ̶ NG Sea Bird - Overnight
Mon., 10/21 (1PM) - Tue., 10/22 (8AM) ̶ Overnight – Queen of the West
Wed., 10/23 (7AM - 2PM) ̶ NG Sea Bird
Thur., 10/24 (7AM - 3:30PM) – Safari
Tue., 10/29 (7AM) - Wed., 10/30 (5AM) ̶ NG Sea Bird - Overnight
Wed., 10/30 (Noon - 6PM) – Queen of the West
Thur., 10/31 (7AM - 3:30PM) – Safari
Mon., 11/04 (1PM) - Tue., 11/05 (8AM) ̶ Overnight – Queen of the West
Thur., 11/07 (7AM - 3:30PM) – Safari
Wed., 11/13 (Noon - 6PM) – Safari
Thur., 11/14 (7AM - 3:30PM) – Safari
Thur., 11/21 (7AM - 3:30PM) – Safari
Thur., 11/28 (7AM - 3:30PM) – Safari