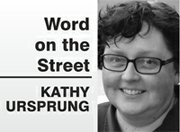 The Dalles — I cannot remember a time when the Golden Rule was not my motto and precept, the torch that guided my footsteps.
—James Cash Penney
A good rule of business: This week is National Golden Rule Week, based on the simple biblical tenet "Do unto others as you would have others do unto you."
This isn't just a Christian principle, almost every religion and culture has a corollary that emphasizes fundamental kindness and respect.
That's the basic rule of customer service, too: Treat your customer as you would want to be treated if they were running the cash register.
Remember, we can't know what a cranky customer may be enduring outside our businesses, but we can assure that they are greeted with kindness and helpfulness.
I am always a little amazed with the prevailing business principle for paying front-line workers less than many of their counterparts behind the scenes. After all, these are the people who show the face of a business every day. Someone unskilled in good service has the potential to drive a customer away for good.
Breakfast with the senator: Sen. Ted Ferrioli will be calling in from Salem to report on legislative activities for The Dalles Chamber Government Affairs Committee. The group meets at 7 a.m. Thursday at The Barbecue Restaurant.