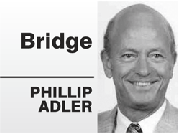 Emile-Auguste Chartier, a French philosopher and journalist who was commonly known as Alain, said, "We prove what we want to prove. The real difficulty is to know what we want to prove."
At the bridge table, we know how many tricks we need to win. The real difficulty can be knowing how to do that. In this deal, for example, South needs 10 tricks to make four spades. But how should he play after West leads the club jack?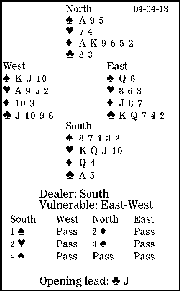 North's three-spade rebid was game-forcing, announcing exactly three-card spade support. He got two shortage points for his doubletons, making his hand worth 13 support points. (It also had only seven losers, which was the number for a game-force.) South plowed on, hoping for the best. (South thought about suggesting three no-trump over three spades, but that contract would have failed after a club lead.)
Even if spades are breaking 3-2, South seems to have four losers: two spades, one heart and one club. And if he immediately plays on spades, he will lose those tricks. Declarer must find a different plan.
There is one realistic hope. South should win the first trick with his club ace and lead a spade to the ace (not vital, but it will save an undertrick if spades are 4-1 and the defender with one spade has at most two diamonds). Then he plays on diamonds, starting with his queen, the honor from the shorter side first. On the third diamond, declarer discards his club loser. Yes, West ruffs, but it costs one of his natural trump tricks. South loses only two spades and one heart.