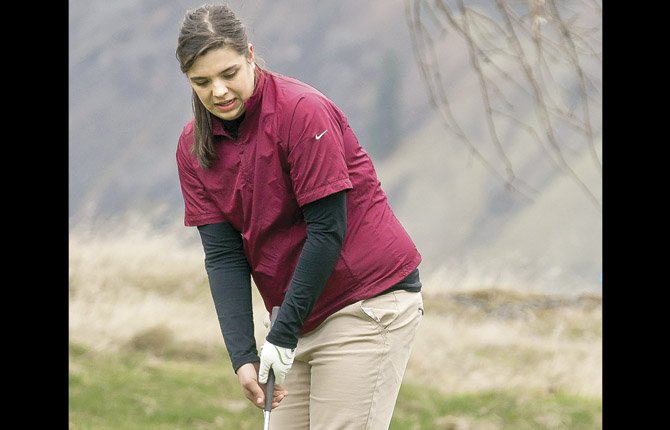 From her first career tournament until this past Monday, The Dalles Wahtonka golfer Jessica Riggs had never finished a day with a score less than 100.
At the Wildhorse Invitational in Mission, the senior finally met her goal – a 98 and a personal record.
Riggs cut 28 strokes off her previous best set this year and wound up placing seventh, just six strokes from top-5 status.
"It was really exciting," Riggs said. "It gives me so much more confidence knowing that after all of the hard work I put in that I was able to drop down my score by so much. When I got on the golf course, I just took it one stroke at a time. It was nice to do so many things well. Makes me want to play again and see how good I will do next time."
In visualizing what course of action led to her success, Riggs mentioned her due diligence put in during spring break while at The Dalles Country Club.
"My long game was good," Riggs said. "It is my short game where I needed to learn how to buckle down and focus. When I was out there shooting my 98, I knew that the way I was putting, my score could have been better. I am going to do everything I can to get my scores lower."
In her first tournament this season at TDCC, Riggs carded a 126, and on March 21 at Big River Golf Course in Hermiston, she turned in a 118, so there is marked improvement overall.
TDW coach Dan Telles liked what he saw from one of his most experienced athletes Monday.
"She did a great job," Telles said. "She was attacking the ball well. It was great for her to do so well. As a coach, you are glad when your kids enjoy success. She deserves it. You want them to love the game and when they enjoy success, it can be something to build on."
Sophomore Elizabeth Peters, a 2012 state qualifier, added to the Eagle Indian attack with her score reading 106 for second best amongst the Tribe bunch.
Another golfer who took flight on the greens and fairways was Hannah Utley, who improved her marks by 15 shots to end up at 121.
Jennifer Bonham added a marker of 145, and newcomer Ally Macnab etched her name to the finishing list with a 153 for TDW's overall rally of 470.
As a team, TDW has shaved 42 shots from the TD Invite on March 12.
"These girls are improving. They are making better strides so far," Telles added. "They are making better contact. We need to work on our problem solving. The greens were running a little faster (Monday), so we need to learn to adjust to those conditions with better approach shots."
On the leaderboard, Hermiston's Madison Welch and Desales, Wash.'s Emily Baumgart needed to settle the score in a playoff.
After each player carded 82s, Welch captured medalist recognition on the opening playoff hole.
La Grande's Kaylie Miles notched third place with her 84, and Pendleton's Rachel Phinney wound up fourth at 87.
La Grande's Carrie Wallace rounded out the field at 91 for fifth place.
On the team front, Pendleton scored first place with a score of 402.
Hermiston (413), La Grande (416), The Dalles Wahtonka (470) and Baker (471) completed the field.
There is a week and change before TDW hits the course again, so they will go back to the lab to further develop a winning formula.
The short game is a point of emphasis – Telles wants this group to feel more comfortable with their wedge and putter – tools they use more than 70-80 percent of the time.
He said it essentially comes down to the basics.
"What we are focusing on is the fundamentals, pre-shot routines, making contact, and distance control, knowing how hard to hit a ball and what club to choose for each distance."
TDW next hits the links at noon on Thursday, April 11 in Pendleton.