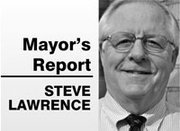 The Dalles — March began with my first trip to Washington D.C. as part of The Dalles Outreach Team. The purpose of visiting Washington twice a year has been to connect with important federal agencies, research funding sources for local projects and strengthen relationships with senators and representatives and staffs from both sides of the river.
A key emphasis this year was to introduce the idea of a multi-agency system of acquiring permits for use of land and business development within the gorge. In other words, where multiple federal agencies with different requirements are involved, is there a way to apply for one permit that serves all?
In the next year, we will try to develop a demonstration project to design such a permit which could possibly become a model for the country. The gorge commission is also seeking to develop one procedure for all communities within the area who want to extend their urban growth boundary.
The Dalles City Council held only one meeting in March. After much discussion, they passed an ordinance to establish a Main Street business assessment of $250 per lot for businesses within the district. A vote of more than two-thirds of businesses is required. If it does not pass, the nonprofit status of Main Street will still exist and other funding will be necessary.
The Columbia Gateway Urban Renewal Board approved sale of the Sunshine Mill to James Martin and Discover Development and gave a 45 day extension to Repoza to complete the Granada block plan, called a Development and Disposition Agreement. These two steps represent key questions about the use of urban renewal funds.
If the mill sale is successful, the urban renewal district will receive not only the money it spent to buy the mill but the $600,000 it loaned to the developer to upgrade buildings. The money received will be used to either pay down urban renewal debt or become available for other projects. The question is; what is the best use of Urban Renewal funds?
When urban renewal was formed in 1991-92, the emphasis was on infrastructure. That means roads, water, sewer and storm water to name a few. In 1998, the powers that be, at that time, decided not to spend money on utilities and changed the plan. Since then, Urban Renewal funds, which come from taking money away from other tax districts like parks and rec and the fire district, have been spent on individual projects, not infrastructure.
In view of recent votes to approve a 3.44 percent annual sewer rate increase and the prior annual water rate hike, maybe it's time to reexamine the purpose of urban renewal, its past use and its future. Does the urban renewal plan need to be revised and does it represent the community's needs, interests and wishes?
Similar questions are being asked about street repair, charges to developers and new home builders for street, sewer, water and storm runoff installation and when local improvement districts can or should be established to construct new streets or sidewalks.
I am reading a book about "scenario planning." The idea is to look into the future at the various possible scenarios and make important decisions today which will allow us to succeed no matter which scenario unfolds. The future for The Dalles is very bright so long as we use and develop our assets to make the most of our choices.

Steve Lawrence is mayor of The Dalles.