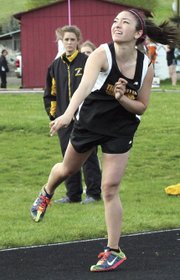 The Dalles — The future of The Dalles Wahtonka track was on display for the annual Columbia River Conference JV track and field meet Tuesday at Sid White Field.
Overall, there were several personal records set and 20 athletes ended up top-3 in the standings, including five first-place outputs.
Those gold medals came on the girl's side of the track with sophomore up-and-comer Hannah Schechtel pulling of two of the wins in her field events.
Schechtel made headway in the shotput with a distance of 26 feet, 2 inches, and worked an exacta in discus where her best toss flew out at 76-10.
Liz Tunai came close to Schechtel in the discus where her top measurement checked in at 70-07 for second place.
In the 1,500-meter race, Audrey Miller had a good turn of foot with a final rally of six minutes and 0.69 seconds for top honors.
Caela Dunagan claimed second place in the same 1,500 in a good 6:02.66.
Also joining the upper echelon was Rose Stephens in the javelin, where her throw of 83-11 surged a distance of 22-02 better than Hermiston's Natasha Van Dusen (61-09).
Jasmine Vasquez notched second place in the 3,000-meters with a time of 13:18.98 and senior Anna Daggett churned out a 13:47.24 for third place.
The boys had success with 12 athletes and relay teams ending competition with top-3 finishes.
In the 4x100 relay, the quartet of Andres Manzo, Julio Manzo, Aldo Rivas and Damion Morris hoisted a second-place trophy by crossing the tape in 48.80.
Out in the high jump pit, the Eagle Indian duo of Sant Strassheim and David Esquivias each had eye-opening performances with second place at 5-04.
Damion Morris grabbed second in his long jump tries with a leap of 18-07.50.
Javier Marinez secured second place in his triple jump attempts where he hit the dirt at 33-11.25. Julio Manzo added third place in triple jump with a final distance of 31-05.75.
All-league football player Riley Bardes grabbed second place in his shotput where his best throw hit the tape at 39-08.50, while teammate Josiah Duong moved in third place for his 37-05.
Destin Ramsey notched second place in discus and his best string of tosses at 97-06, and Bardes had a 94-04 in the same discus event.
The 4x400-relay group of Mitchell Waters, Julio Silva, Andres Manzo and Josh Sexton looked to be in district form in third place at 4:11.97.
Rounding out the Tribe highlights was Silva, who reeled off third place in the 110-meter hurdles in 20.08.
TDW made a varsity trip out to Gresham for another track event at 4 p.m. today at Mount Hood Community College.