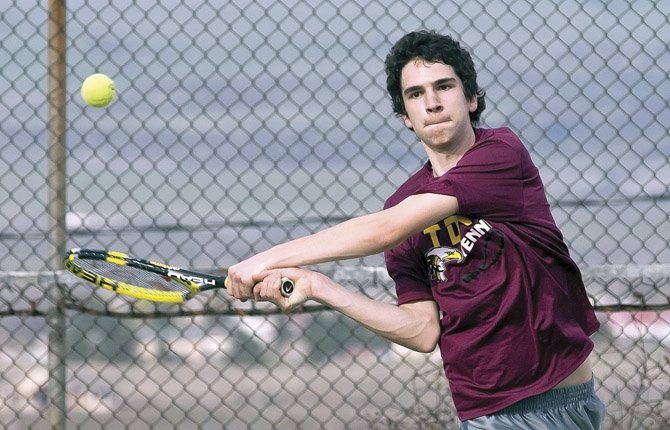 The Dalles — A few bounces here or there and The Dalles Wahtonka could have reeled off a critical league victory over Hermiston.
As it was, the Eagle Indians won two singles matches and lost three close turns in a 6-2 setback Tuesday night at Hermiston High School.
"It took us a little while for us to get going. There were some good matches," said TDW head coach Andrew Hughes. "We saw some things we need to work on, that's for sure."
TDW's two wins were of the comeback variety.
Griffen Martin started the winning trend in his No. 1 singles showdown versus Gavin Drotzmann.
Martin dropped the opener by a 6-3 tally, but he bounced back with an aggressive effort to even things up at 1-apiece after a 6-2 winner.
Martin sealed the win over Drotzmann in a 6-3 placing to claim a comeback triumph.
At No. 3, Cole McDowell faced off with Hermiston's Tyler Wadekamper and suffered a 6-3 loss to start, so he had to restore order.
McDowell got his wits about him in the second game, using a 6-1 split to even the match at 1-apiece.
The Eagle Indian standout delivered a knockout blow in the tiebreaker where he served and volleyed a 6-3 score to garner a win.
"Griffen struggled early, but he settled down and played intelligent tennis," Hughes said. "He did well and Cole played well. Cole did such a great job and was consistent in his all-around play."
TDW's Christian Munoz, along with doubles pairs of Ethan Semlor and Milo Romney and Fernando Lopez and Daniel Spurr suffered heartbreakers in their matchups.
In the No. 3 doubles division, Pedro Pachiquin and Mario Umana hit the courts for a marathon tussle against the Eagle Indian duo of Ethan Semlor and Milo Romney.
The Hermiston tandem struck first blood with a 6-3 decision to establish early control.
Semlor and Romney showed some heart in the second set where a tiebreaker was needed to settle matters.
They wound up going ahead 7-6 with a 7-1 tally in the tiebreaker rounds.
Pachiquin and Umana had to go the extra mile in the finale where they got a few bounces to go their way for a 7-5 victory.
Lopez and Spurr also had two points make the difference in both sets played opposite Hermiston's Cam Meade and Skylar Gregg.
Two sets settled this match, however, with Meade and Gregg dropping finals of 6-4 and 6-4 to work another outcome in their favor.
Hermiston's Reece Lathan won both of his sets against Munoz in two two-point margins.
Lathan won the opener 6-4 and he scored a win at 7-5 for the sweep.
Hermiston's Vincent Whitesell and Luca Wyant scored a 6-0 and 6-4 over Chava Vasquez and Jose Santillan.
TDW's Carlos Barajas lost his No. 2 singles match 6-3, 6-2 and the Tribe No. 2 tandem of William Coy and Ben Dlala lost 6-1, 6-1.
"We have to be more aggressive at the net and limit our unforced errors," added Hughes when discussing his team's doubles matches. "We need to play in a more cohesive manner. If we work on that, we will play better down the road."
TDW hosted St. Helens at 3:30 p.m. earlier today, and hosts Hood River Valley at 4 p.m. Tuesday.