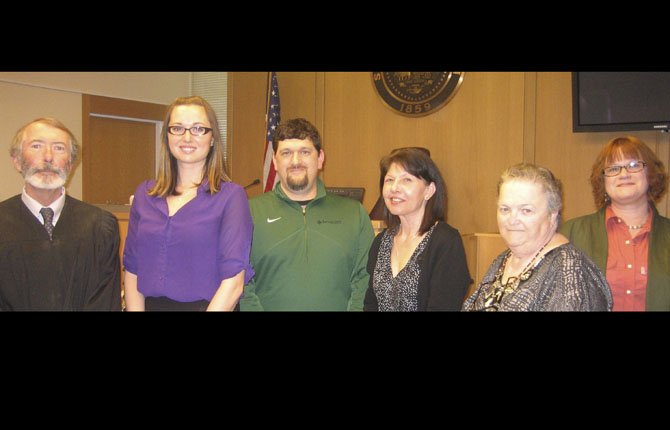 Columbia Gorge CASA (Court Appointed Special Advocates) has appointed its newest child advocates: Nicolette Hage, Antonio Marconi, Colleen Clark and Patricia Carty, Wasco County; and Stacey Johnson, Hood River County, who were sworn in by the Honorable Paul G. Crowley March 6, 2013.
These new advocates join a cadre of child advocates who serve neglected and abused children in Hood River, Wasco and Sherman counties.
CASA volunteers are appointed by judges to watch over and advocate for abused and neglected children, to make sure they don't get lost in the overburdened legal and social service system or languish in inappropriate group or foster homes. Ideally volunteers advocate for their CASA children until their court cases close and the children are placed in a safe, permanent home. For many abused children, their CASA volunteer will be the single constant adult presence in their lives.
Judges benefit from the fresh perspective brought to these cases by people not obligated to an agency, or bringing a professional point of view to court.

A few key benefits of CASA advocacy include:
• Children with a CASA are half as likely to spend time in long-term foster care (three years or more);
• Cases involving a CASA are more likely to remain permanently closed;
• Fewer than 10 percent of children with a CASA re-enter the foster care system;
• CASA volunteers spend most of their volunteer time in contact with a child (CASAs can give each child's case the sustained, personal attention he or she deserves). To a child, that means a consistent and caring adult presence in his or her life; and
• CASA advocacy saves taxpayer dollars. If the median length of stay were shortened for children in foster care by just one month, it would realize a national savings to taxpayers of approximately $2.75 billion (National CASA; www.casaforchildren.org).
CASAs are able to advocate for half of our communities' children in need, but the other half is still waiting for more advocates. All volunteers receive 30 hours of pre-service training using the National CASA Volunteer Training Curriculum, as well as 12 hours of in-service training per year. New advocate training sessions will begin in early May.
If you are interested in learning more about the CASA program, contact Susan Baldwin, advocate manager, at 541-386-3468 or 541-993-9506.