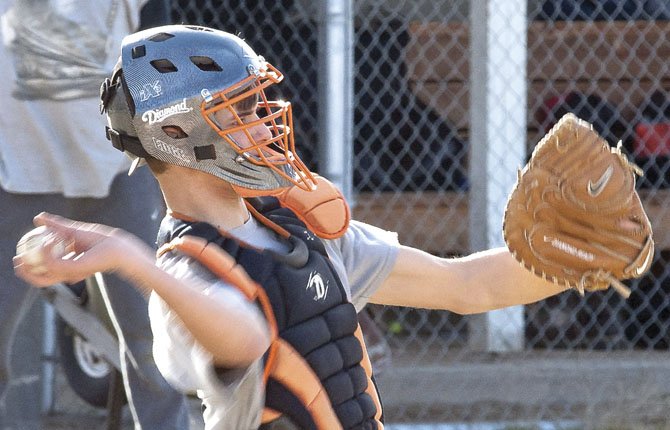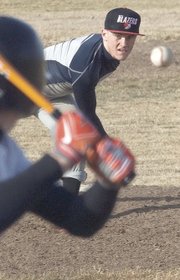 Roster
SHERMAN BASEBALL ROSTER
Joe Justesen ............Head Coach
Tim Wetherell ......Assistant Coach
Mark Urness ........Assistant Coach
Ben Holliday ......Associate Coach
---
Riley Brown (12) ....................SS-P
Nick von Borstel (12) ........IF-OF-C
Shae Morava (12) ....................P-IF
Jesse Tauuna (12) ....................OF
Cody Jauken (11) .....................OF
Nick Coleman (11) ........C-P-IF-OF
Daniel Aguilar (11) ......................IF
Jared Davis (11) ....................OF-P
Eddy Lopez (11) .........................IF
Austin Kaseberg (10) ..............P-IF
Kaiden Paulette (10) .................UT
Lily White (10) .............................IF
Wyatt Stutzman (9) .............C-IF-P
---
2013 SCHEDULE
host Irrigon in Moro (2) .11 a.m., ............................................Apr. 6
host Heppner in Arlington ...........................4:30 p.m., Apr. 9
at Dufur (2) ...............2 p.m., Apr. 12
at Lyle-Wishram .....4 p.m., Apr. 16
at W. McEwen (2) .11 a.m., Apr. 20
at Condon .........4:30 p.m., Apr. 23
host Stanfield in Arlington (2) ..............................2 p.m., Apr. 26
at Heppner .........4:30 p.m., Apr. 30
at Horizon Christian in Hood River (2) ...........................11 a.m., May 4
host Lyle-Wishram in Moro ...........................4:30 p.m., May 7
host Pilot Rock in Arlington ..............................2 p.m., May 10
at District Playoff at Location TBD ...................................TBA, May 14
at District Playoffs at Quinton Street Ballpark in The Dalles .................................TBA, May 18
State Finals Volcanoes Stadium in Keizer .....TBA, May 31-June 1
Off to a 1-3 start to the 2013 season, the Sherman Huskies have an idea in mind to do some damage in the 2A Blue Mountain Conference.
They will get their start this Saturday for a pair of games against Irrigon – it will show head coach Joe Justesen whether or not this team can hustle their way towards being legitimate contenders in the 2A baseball landscape.
"I think we have a pretty good group of guys on this team," Justesen said. "We have some good hitters, good pitching and a solid defense. In my three years here, we have probably the most speed through the lineup."
In previous years, Justesen has had the luxury of complimenting speed with deadly power in the lineup, but with the institution of the BBCOR bats and a change of personnel over the last few years, Justesen envisions a new philosophy of offense for this roster.
Earlier this season, Sherman grabbed its first victory of the season in a 3-2 matchup with Culver on March 19.
They also pushed 3A Riverside to the brink in a 9-7 road loss.
Gone are the days of 9-8 and 10-7 scores, but with the pitching depth and defensive acumen in 2013, Justesen's crew will more than likely play games with tallies of 4-3, 3-1 and 2-0.
"We will have to play small ball more," Justesen said. "Our goal is to get guys on base, bunt them over and take more chances on the basepaths. I see us trying to steal more bases to put pressure on the defense and put people in the right position to score."
In the past few years, the Husky offense has gone from 132 runs scored to 105 last season, so the key is taking advantage of some opportunities when they present themselves.
Jonah Davis is the leadoff hitter and Nick Coleman will see time at an important slot as a No. 2 in the lineup.
Eddy Lopez, Riley Brown and Austin Kaseberg make up the meat of the order who will try to hit doubles and get clutch hits to drive in some runs.
"I still think we can score some runs," Justesen said. "There are some talented hitters in the lineup. They just need to come through when it counts."
With the institution of Jared Davis, Kaseberg and Coleman as the top aces on the pitching staff, Justesen likes the foundation they have in place.
Brown and Shae Morava will also see some significant innings on the mound with Wyatt Stutzman.
When the freshman Stutzman is not on the mound, he will be behind the plate catching this staff.
Justesen likes the potential and will have to make things work out without the likes of second-team all-league left-handed pitcher Ben Holliday, who sustained a knee injury during the basketball season.
Justesen noted that, if healthy, Holliday could have been penciled in as one of the top-3 hard-throwing pitchers in the BMC.
Instead of taking the mound, Holliday is an associate coach working with the pitching staff.
"It is real tough not having Ben in there for us. He is a great pitcher for this team," Justesen said. "Now, he is hurt and we will have to make it work without him. Even though he is hurt, he still brings leadership to this team. He has been here for all of our games and all of our practices. It is great to have him around."
Nick Von Borstel, Morava, Cody Jauken, Daniel Aguilar, Kaiden Paulette, Lily White and Jesse Tauuna, from Arlington, are just some other names who will see some innings on the field and in the batter's box.
Justesen is hoping to see an increase in wins from last year, but he wants this group to have some fun and steadily progress.
He is building for the future and ultimate success down the line.
"We can compete with anyone," the coach said. "I know we will try hard and do our best. We may not have the best team in the state, but we have a team that will give it their best until the final out."
Sherman (1-3 overall) hosts Irrigon at 11 a.m. Saturday in Moro for a league doubleheader