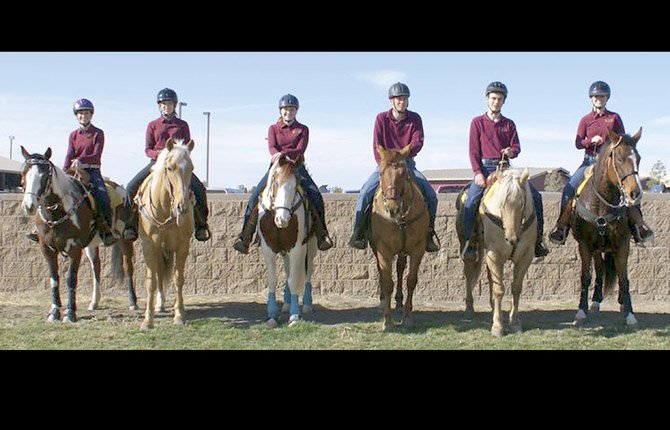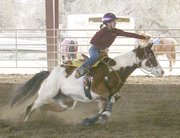 Through two equestrian meets, The Dalles Wahtonka is steadily making their progressions just in time for a successful state tournament showing.
TDW amassed seven top-20 finishes, Jacob Richman scored second place in barrels and the team penning group clinched fifth place during Oregon High School Equestrian Teams Central District action in Hooker Arena at the Deschutes County Fair and Expo Center this past weekend in Redmond.
Co-head coach Marie Cordell saw a Tribe group that rigorously prepared in practice sessions to work their way to another level.
"It is great to see the kids improve from the first meet to the second meet," she said. "All their hard work is really showing."
There were several standout efforts from this team, but the team penning squad of Faith Hodges, Jacob Richman, Carsen Cordell and Cheyenne Renard produced a solid outcome in the event.
In all, they had three pens with six cows for a combined score of 214.67.
Previously this season, the team attended a couple of cattle clinics with Neil Slater from Goldendale, Wash.
It helped.
"Carsen did a great job cutting the cattle out of the herd and her teammates, Cheyenne Renard and Jacob Richman played their parts well, moving the cattle carefully but quickly down the arena and into the pen," Ferrer said. "The kids did really well in this event."
Along with team penning, Cordell participated in eight events, including figure 8, poles, barrels and hunt seat equitation.
On the figure 8 front, Cordell tallied an 11.65 for 15th place and the junior rider tacked on a score of 26.39 in poles for 17th place in the standings.
She added a 23rd in Barrels with a tally of 17.15.
This season, Cordell has been a model of consistency with an average finish of 15th.
Athletes rack up significant points when they can end up at 15th or higher.
"Carson Cordell has really improved in the gaming or timed events this year," Ferrer said. "The competition is really tough. So, any time we have athletes in the top 15, we're really happy."
Cordell and teammate Cheyenne Renard scored 18th place in working pairs and Cordell along with Renard, Thomas Richman and Hodges notched 63.90 on the scoreboard for 12th in Canadian flags.
Jacob Richman had the best time in barrels where his score of 20.22 placed him in second place.
He added a 10.50 for 20th place in keyhole, and motored out four other top-30 outcomes.
As one of a few newcomers, Jacob Richman has proven to be a pleasant surprise on this team.
"He has really shown improvement," Ferrer said. "He started the year as a beginner, but he's placing in the top half of some of his events. We're pleased with his progress."
Renard had a few other top performances over the weekend and reeled off five top-20 finishes to her slate.
She placed 21st in keyhole where her marker of 10.69 and added a 27th, 28th and 29th in other runs.
Renard had a 29.22 for 27th in poles, a tie for 28th with Nails in western horsemanship and she churned out a 13.29 in figure 8 and joined forces with Cordell in bi-rangle with a score of 35.48.
"She is new to our team this year, and we're really glad to have her," Ferrer said of Renard. "She has some great skills, which she is developing further at every practice."
Faith Hodges, the lone senior on the team, enjoyed her best individual turnout in individual flags, where she had a mark of 19.47 for 20th place.
Hodges added a 15.03 in figure 8, a 17.30 in keyhole, an 18.95 in barrels and she paired up with Shyanna Nails for 36th place in bi-rangle with a 54.84.
Her barrel effort, Hodges' favorite event, was good enough for a top-half finish in the standings.
"The competition in that event is pretty tough," Ferrer said of Hodges. "All the kids really like it and some of them have some pretty fast and well-trained horses. Faith has done a great job with her horse, 'Ranger,' bringing him steadily along over the past two years."
Nails took a dip in a multitude of runs overall, as an individual and on a team, but there were some positive aspects Ferrer saw.
Nails placed in a tie for 28th place in western horsemanship, had a 40.84 in barrels and rattled off a respectable 64.87 in poles.
Ferrer has seen Nails jump up in the ranks mostly this season in showmanship and western horsemanship, but added that she can make headway on a bigger stage soon enough.
"At the first meet, her horse was very excited and hard for her to control," Ferrer said. "This meet, the pair showed some real potential. Her horse was calm and obedient. They still have some skills to develop in order to place higher, but they seem to be on the right path."
Thomas Richman worked his magic in a handful of events with some decent scores, but in individual flags, he rocketed himself to 21st place with a 20.05.
He tallied a 22.02 in barrels, a 16.29 in figure 8, a 40th in western horsemanship and along with teammate Jacob Richman, they racked up a 42.63 for 34th in working pairs.
"He works extremely hard and is very patient," Ferrer said of Richman, another new equestrian athlete. "He's been a real asset to our team."
TDW hits the dirt again starting at 8:30 a.m. every morning from April 19-21 in Redmond.