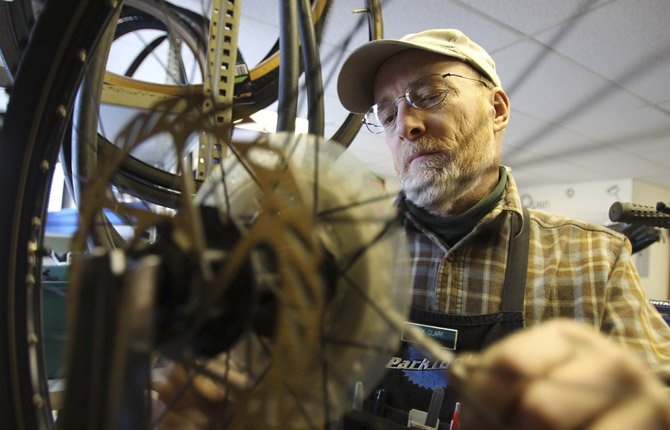 The scene on a recent weekday morning at Bicycle Re-Source of Bend is not unlike that at any bike shop in town: A man, Mark Clark, inspects a lavender Huffy mountain bike in a workshop, his greasy hands spinning wheels and checking brakes. Dozens of tires hang from a wall, along with myriad tools on a pegboard.
But unlike most bike shops, Bicycle Re-Source of Bend (BRoB, for short), fixes bikes to give away.
Since December 2010, BRoB has been repairing donated and abandoned bikes and distributing them to financially strapped adults and children throughout Central Oregon.
"There's a huge demand (for bikes) among the low-income (population), homeless people and veterans," says Rod Miller, vice president of BRoB's board of directors.
Miller is one of a handful of regular staff members with the nonprofit, which is housed in a strip mall on Bend's east side. Like several other staff members, he works full time as a bike mechanic at a local shop during the day but finds time to volunteer at BRoB several hours each week.
"I believe in what (BRoB is) doing," says Miller, whose regular job is with Hutch's Bicycles. "Bikes are the answer to everything."
Jeff Schuler, BRoB's co-founder and president, agrees. For many of the people the organization assists, "a bike literally spearheads a change of life."
Through partnerships with local nonprofit agencies such as Central Oregon Veterans Outreach, Family Access Network and NeighborImpact, BRoB provides bikes (along with helmets and bike locks) to roughly 20 community members each month, according to Miller.
"With 90 percent of the bikes we give away, we have gotten a call from an (agency) advocate saying there's a need," says Schuler.
For Central Oregon residents who cannot afford a car, transportation options are limited. While the local bus system, Cascades East Transit, offers public transportation throughout Deschutes County, it does not operate on nights or weekends. And most bikes sold at specialty shops around town are expensive, Miller observes.
Additionally, BRoB provides bicycles to children and teens who can then bike to school or ride for recreation.
Schuler tells of a recent recipient who uses his new bike to travel to and from his middle school. The teen, says Schuler, is no longer late to class because he can now bike to school instead of walk.
Bicycle Re-Source Center of Bend is the only organization of its kind in Central Oregon, says Miller.
Bend's Community BikeShed, a similar operation and former affiliate of Bend's Community Center, closed in September 2010. (It reopened four months later but closed again last fall due in part to financial hardship.)
In October 2010, Schuler and Mike Martin — both former volunteers at the BikeShed — co-founded Bicycle Re-Source of Bend and rented a work space with two other former BikeShed workers. "When (the BikeShed) closed, we knew there was going to be a need," says Schuler.
It was intended to be only a temporary service.
"We planned to give away 40 bikes at Christmas," says Schuler.
Only a few bikes were distributed that December, he recalls, but the small space was taking form as a bike shop, complete with tools and parts purchased at a discount from local bike stores, including Hutch's and Bend Velo.
Instead of closing after the holidays, BRoB began partnering with nonprofits, repairing and distributing more than two dozen bikes each month by spring 2011.
"That's when we said, 'This is what we are,'" says Schuler.
Since then, BRoB has experienced significant growth. In one year it has more than doubled its distribution, handing out 233 bikes in 2012 compared with 98 in 2011.
Last November, BRoB was granted nonprofit status, which has opened the door to potential grant money. According to Miller, BRoB recently applied for a $22,000 grant through the Oregon Community Foundation and is waiting to hear back.
Currently, BRoB raises funds through bike valet services at occasional events such as Munch & Music in Bend's Drake Park. The organization also regularly sells refurbished bikes on Craigslist. The proceeds cover most of the $1,000 needed each month to pay BRoB's expenses, says Miller, but funds are limited.
"We're just a shoestring operation," he says.
Miller estimates that of the bikes donated to BRoB from the local community and area landfills, only half are fixable. Many of those bikes, he notes, were originally purchased from warehouse-type stores and are not of high quality.
"They look like bikes," he says, "but they are poorly made."
Severely damaged bikes that come to BRoB go through a triage process in which usable parts are salvaged and steel frames are recycled. Before being sorted, bikes are housed in three rented storage units behind the building.
BRoB's 500-square-foot space also hosts donation-only bike tuneup service and mechanic classes for community members. For some, the instruction also serves as vocational training.
"We have a three-prong attack," says Miller. "Fix bikes, sell bikes, and teach people how to fix bikes."
BRoB also teaches basic bike maintenance and repair classes at local schools, and at shelters such as Living Operations for Teens and the Bethlehem Inn.
"Some (people) have never held a bike wrench in their life," notes Miller.
In the future, BRoB hopes to expand its educational offerings. If the budget allows, Miller says, the board would also like to hire a full-time staff member to oversee the nonprofit's daily affairs.
For now, BRoB will wait and see what happens.
"There's no crystal ball for what the future brings," says Schuler. "You grow as your needs grow."
---
Information from: The Bulletin, http://www.bendbulletin.com
Copyright 2013 The Associated Press.