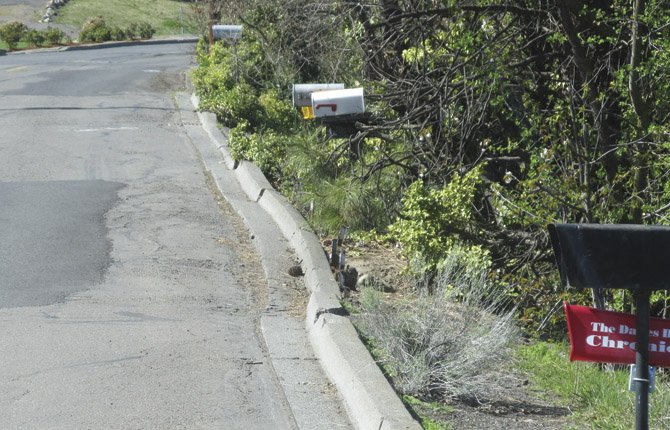 Most of us use them day in and day out without a second thought. They are a part of the landscape, given little thought until —
"K-THUNK!"
We land in a bone-jarring, teeth-rattling, axle-breaking pothole.
Streets take a beating every winter from chains and studded tires, then spring reveals not only daffodils and tulips, but chewed-up, torn-down asphalt, too.
The problem grows worse — and more costly — if street maintenance has been deferred.
That's what has happened in The Dalles. Revenues to support road maintenance haven't kept pace with the costs to repair them.
Even though gallon prices for gasoline have skyrocketed, pushing more and more people to reduce their driving and buy more fuel-efficient vehicles, The Dalles' gas tax has remained a measley 3 cents per gallon — not 3 percent of the price, 3 cents. That's 36 cents off a 12-gallon fill-up.
It doesn't take a math genius to arrive at the conclusion that the numbers just don't add up and maybe that figure needs to be reconsidered.
But The Dalles City council has before it a range of other road budget-increasing options that raise a lot of questions about what they have been doing all along regarding road funding.
City staff is proposing to shift some franchise fee funding from the general fund to the road fund, then add or increase other franchise fees to make up the budget gap.
The question is, why haven't those franchise fees been going into the road fund all along.
One former city staff member explained the purpose of franchise fees some years ago in a way that made sense. They are not just a way for a city to benefit from the profits made within its boundaries. Instead, they are a way of compensating the city for the extraordinary wear and tear put on public facilities by the heavy equipment these businesses often use.
It's an elegant equation: cause-and-effect, cost-and-benefit.
Yet instead of putting that money into the cost of maintaining those facilities, The Dalles chose to backfill its general fund, even when it was clear road conditions were eroding.
We hope councilors will give close scrutiny to any proposals brought forward. The city has already raised household costs significantly in the past year.
The city says its general fund budget is in good shape — and it should be. Over the past 30-some years, the city has divested itself of its parks department, fire department and much of its library costs — all major city departments with big budgets.
It's not difficult to conceive that they should be able to make general fund ends meet without the franchise fees that the road department desperately needs — and by rights should have.
We shouldn't have to remind the city that per capita income has declined by 17 percent over the past five years and that rural, less densely populated regions like ours are lagging behind the national average.
Every rate hike or franchise fee levied comes directly out of your constituents' bottom line.
The city's situation isn't as desperate as Wasco County's, where loss of federal payments has effectively gutted the road budget. The county has almost no alternative to looking for other revenue sources. But if the city sharpens its pencils and looks as closely at its budget as local residents do, we think they'll find other alternatives.