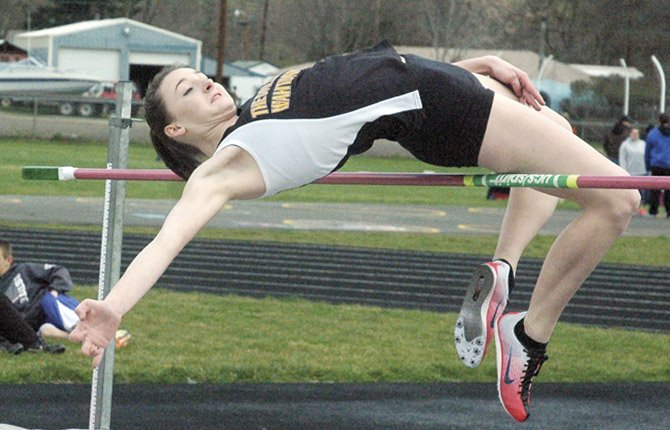 The Dalles Wahtonka jumped back into action Friday night at the East County Classic in Gresham where 12 athletes amassed top-5 placings and both Lio Tunai and Harris Farr claimed first place recognition to lead the boy's track and field team to fifth place in the standings.
Tunai, the 5A classification's top-ranked shotput athlete with a distance of 54-feet-6 inches, defeated all comers on the campus of Mount Hood Community College with a top toss of 51-05.25.
Farr, who earlier this season set a combined school record of 22-03 in the long jump, came close to matching that number with his top flight going 21-02.75.
In the pole vault pit, 2012 state qualifier Felipe Lexow appears to be back into state form, as he flew over the bar in an 11-06, which was good enough for second place overall. In the same event, Mark Johnson added a height of 11-00 for third place.
On the discus slate, Tunai clinched third place with his throw of 129-06 and up-and-coming teammate Josiah Duong was right behind in fourth place at 127-00.
Added to those efforts, Blake Diede notched fourth place in the 100-meters with a time of 11.62 seconds.
The junior was also one of the major cogs in the 4x100-meter relay team along with Sant Strassheim, Farr and David Esquivias that tallied fourth place with a final time of 45.73.
Zach Nerdin had a marker of 16.86 for sixth place in the 110-meter hurdles and the junior maintained his edge in the 300-meter hurdles where he stopped the watch in a respectable 44.40 for fifth place.
Hermiston garnered first place with 95.5 points and Lakeridge had 87.5 points to place second.
Sprague (73), Hood River Valley (67), TDW (62), Clackamas (58) and Pendleton (56) rounded out the boy's top-7 placers.
The Lakeridge girl's team cruised to an easy 120.5 points for first place, 34.5 points better than Bend, who finished second with 86 points on the scoreboard.
Hermiston (71.5), Battle ground (71), Reynolds (68), Hood River Valley (49) and Clackamas (46) finished out the seven best teams in the event.
Pendleton (36) garnered ninth place and The Dalles Wahtonka girls racked up 23 points to inch ahead in 11th place.
Leading the Tribe team was sophomore Katie Conklin, who leaped as high as 4-11, a height that earned her second place.
She added a fourth place ribbon to her record in the triple jump, where she soared to an impressive 33-03.
Freshman standout Katie Burns claimed fourth in the 300-meter hurdles with a marker of 50.37, Emily Morin, another top freshman, added a sixth in her 3,000-meter rally and crossed the tape in 11:53.23.
Morin placed eight in the 1,500 in 5:27.86, Dylan Schechtel kicked in a 28.84 in the 200-meters and senior athlete Anna Daggett churned out a time of 9:57.68 in her 2k steeplechase event for 10th place.
TDW puts its junior varsity team to the test in an upcoming meet at 3:30 p.m. Tuesday in Pendleton.
The varsity group heads to the Sam Barlow Invitational for action starting at 11 a.m. next Saturday.
Sherman runs in Milton-Freewater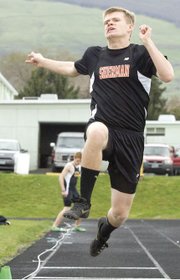 Looking to make a mark in the 1A track circuit, the Sherman Huskies went to work again Friday for the Carnival of Speed track and field meet at Shockman Field in Milton-Freewater.
In all, the boys and girls combined for 12 top-10 finishes and the trio of Andie Harrison, Samantha Coons and Brett Evans grabbed top-5 status while facing 21 other schools ranging from 5A to 1A.
Harrison and Coons each placed fourth in their respective events, but the junior Harrison made a bit of personal history with her javelin toss. She fired her javelin 106-feet-5 inches, a personal best by more than three feet.
Coons, a multi-event state qualifier, gave it her best shot in the triple jump with a distance of 30-03.
Harrison added a seventh-place outcome in the 800 with a time of two minutes and 54.22 seconds.
Coons bolted out to a 1:00.83 in the 300-meter hurdles for seventh place and Meagan McKinney soared 15-02 in the long jump for eighth place and tacked on a time of 14.00 for ninth in the 100-meter dash.
Harrison and Coons joined forces along with McKinney and senior Brooklyn Sandquist in the 4x100 relay run and added a final time of 55.67 seconds for sixth place.
With those times and distances, the Sherman girls scored 18 points for 10th place.
Southridge won the event in runaway fashion with 207.75 points and Weston-McEwen rattled off 95.5 points for second place.
For the Husky boys, Brett Evans enjoyed the best time of the bunch with his mark of 2:16.68 giving him fifth-place honors.
The sophomore crossed the tape in 4:54.80 for eighth place, twin brother Blake Evans kicked in an eighth-place standing for his day in the 3,000-meters run in 11:04.61.
Nick Coleman grabbed ninth in the 400-meters with his 56.10, and he finished 11th in the 100 at 12.07.
Tanner Sandquist added a toss of 25-02.50 in the shotput and senior speedster Devyn Roberts kicked in a 29.11 in his try at 200 meters.
Brett Evans leapt to 17-02 in the long jump, Coleman chased in a 16-11.75 in the long jump and Blake Evans tossed the javelin at a distance of 121-04 for 14th place.
Southridge completed the sweep on the boy's side with 185 points for first place and Enterprise added 85 points to the tally to end up in second place.
The Sherman boys scored 5.5 points for 20th place in the standings.
At 4 p.m. Tuesday, Sherman, South Wasco County and Dufur hit the track again for the Arlington Twilight event.