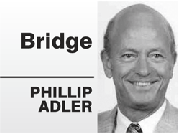 Celine Dion said, "Golf is a search for perfection, for balance. It's about meditation and concentration. You have to use hand and brain."
In bridge you must use your brain to gain the most from each hand you hold. And in this week's columns, we are looking at balancing, when one player, if he passes, will end the auction.
If the dealer opens one of a suit, the next two players pass, and the fourth player jump-overcalls two no-trump, it is no longer unusual, showing at least 5-5 in the two lowest unbid suits. Now it is natural. In principle, the intervenor has a hand with which he would have opened two no-trump, but he might be a point or two short of the normal requirements when he has a respectable six-card minor.
In this deal, though, South has a classic two-no-trump opening and a balancing two-no-trump overcall. North transfers into hearts, then rebids three no-trump to offer a choice of games. South, with only two hearts, passes.
After West leads the spade queen, how should South plan the play?
Declarer starts with eight top tricks: two spades, three hearts and three clubs. He should work to get a fourth heart winner. After winning the first trick in his hand with the spade ace (to keep dummy's king as an entry), South should cash his heart ace, then overtake the heart queen with dummy's king. He continues with the heart 10 to drive out the jack and ends with nine tricks.
Note that if declarer gets greedy, cashing his two hearts, then crossing to the spade king, he goes down.