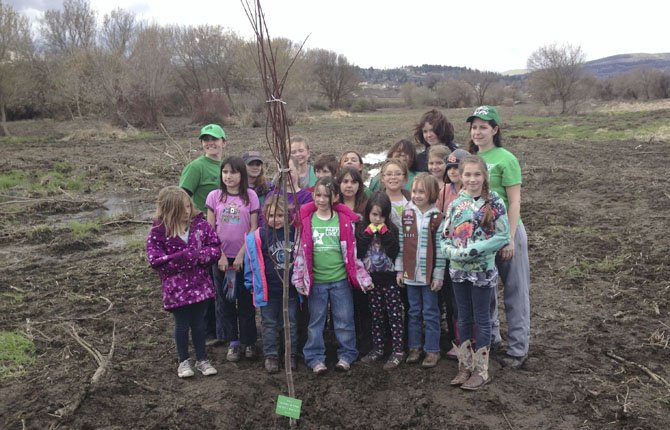 The local Girl Scout troop is feeling the love after experiencing community support from several quarters.
For their annual fundraiser, Troop 50121 sold about 8,500 boxes of Girl Scout cookies recently. A Daisy troop—for kindergarten-aged girls—sold about 1,000 more.
"I asked a lot of people at a basketball game, and I think all of them said yes," said Girl Scout Jadyn Fargher.
Fellow troop member Zora Richardson said she had a lot of fun selling cookies, although she is glad she doesn't have to see another Girl Scout cookie until next year. She said when she was selling cookies there were people who bought cookies and then told her to keep them, because they really just wanted to make a donation, or they told her to keep the change when they paid with a $5 bill.
The scouts decided to pay it forward by donating those extra cookies to HAVEN for Domestic Violence, so that women who came to the organization in crisis could have a little something to brighten their day.
"Who doesn't love Girl Scout cookies?" said volunteer troop leader Sommer Lucas.
She said the girls listened to a presentation about the purpose of HAVEN and as a result some of the older girls brainstormed ideas for ways they are going to help out, like having a toy drive for children displaced by domestic violence.
The money from the cookie sales went into an account to be used for troop activities and scholarships for girls who can't afford to pay for camps.

The troop can't use the cookie money to pay for utilities and upkeep on the Girl Scout House, however, which is why a new nonprofit called Friends of Girl Scouts has formed in The Dalles.
The national Girl Scout organization had decided to return the house to the city because it no longer wanted to pay for the upkeep, but local Girl Scout volunteers asked the city to lease it to them for a dollar so that the local troops could continue to have a place to meet, hold activities and store items. Lucas said they also didn't want to lose the history and memorabilia associated with the place.
However, because the house is no longer owned by the Girl Scout organization, the local troop is responsible for upkeep and utilities — including monthly bills for water, sewer, electricity and natural gas—and cannot use money from official fundraisers like the Girl Scout cookie sales.
Lucas said the newly formed Friends of Girl Scouts will be doing some fundraising to cover those bills, but said so far she is encouraged and grateful for the community support the nonprofit has received.
"We got two large donations from within the original founding members to get us up and started, and we've gotten some verbal in-kind donations," Lucas said.
One of those is from Home Depot, which surprised the Girl Scouts with an offer to provide the materials and labor to build a six-foot-high wooden fence around the yard of the Girl Scout house so that they can have the privacy to have their sleepovers and other activities outdoors during the summer.
Another was from Compton's Furnace Cleaning, which is providing a free inspection of the chimney and free ductwork cleaning, and from Luciano Tree and Lawn Service, which is providing free lawn upkeep.
"We have had a great response, and I'm excited to see that continue to grow," Lucas said.
A meeting for those interested in helping the Friends of the Girl Scouts in some way will be April 25 at 6 p.m. at the Girl Scout House.
For directions to the house or other information call Lucas at 541-993-8999.