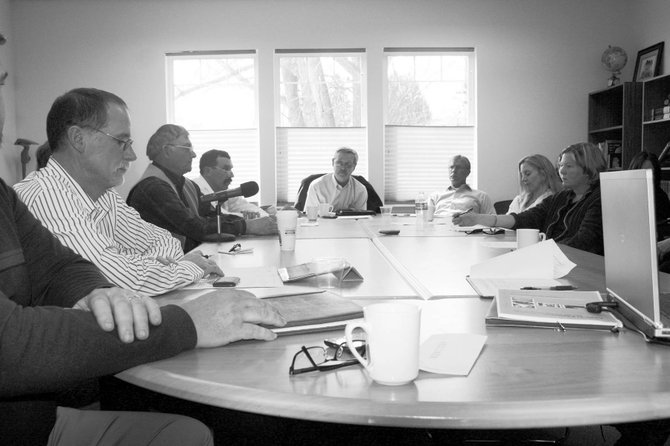 Sherman County has offered to provide administration for a regional hub that will provide early childhood services.
The offer was discussed Thursday during a meeting between Wasco, Hood River, Sherman, Gilliam and Wheeler counties. The five counties also discussed drafting an intergovernmental agreement to work together as a hub — unless, when the state finally provides more concrete answers, it becomes apparent that it would not be advantageous.
"It's hard to make a decision based on no real facts," said Wheeler County Commissioner Anne Mitchell.
State legislation does away with the Commission on Children Families system in each county starting in July. Communities are now required to form regional hubs,
officially called Community Based Coordinators of Early Learning Services. The hubs will be responsible for awarding and administering contracts for early childhood programs like the Healthy Start home visits and will be held accountable for the results.
Despite indications from the governor's office that much, if not all, of the administrative and overhead costs will have to be covered "in-kind," Sherman County commissioners expressed a willingness to take on the responsibility.
"We feel like we have the bandwidth to do this now, and the other counties don't necessarily," said Sherman County Commissioner Mike Smith. He referenced instances in the past when other counties took on the cost of similar responsibilities during regional collaborations because Sherman didn't have the money. "We have a little bit of breathing room this time to be at the head instead of holding on to the tail end of the rope, along for the ride."
If Sherman County became the hub, it would house the manpower to administer contracts, manage finances, gather data on the programs and provide reports to the state Early Learning Council. However, decision-making would be dictated by a board made up of representatives from all the counties involved and various early childhood partners. The legislation creating the hubs leaves the makeup of that board up to each region.
The legislation also leaves the makeup of the regions open-ended. The five counties at the meeting expressed interest in working together because, as Joella Dethman of the Hood River Commission on Children and Families pointed out, the commissions' programs already stretch across multiple counties.
"We've been a region for 20 years," she said.
However, county representatives did discuss that there could be downsides to working together, depending on how funding for programs is distributed. If each hub gets the same amount of money, it would be better to spread the amount across one county instead of five. And if the amount is alotted on a per capita basis, some counties might decide to join a bigger hub despite worries that it will try to force urban strategies onto rural communities.
"What Hood River has found in partnerships with Multnomah County is they just throw us out some crumbs, but those crumbs are bigger than anything we're going to get if we work with any counties to the east," Dethman said.
Sherman County Judge Gary Thompson said if the governor really is adamant that he wants counties to work together, the best funding formula would be giving a certain amount of money per county in the region.
Commissioners at the table said they needed to discuss things with their county commissions before agreeing to do anything, but several voiced the opinion it would probably be wise to start moving forward on a broad intergovernmental agreement between the five counties, even if it all had to change when the state finally laid down more specifics, so that they would be ready to jump on any opportunities that arose.
"I would rather be in the early stages when we know there is some money coming instead of jumping on at the end when the money is running out," said Wasco County Commissioner Rod Runyon.
As part of the overhaul of early childhood service delivery, legislation is being drafted during the current session with requirements such as state-mandated testing for kindergarten readiness when students enter school and a standard quality rating system for preschools and daycares. Legislation is also being drafted to create a similar overhaul of services for children six and older under an entity called the Youth Development Council.