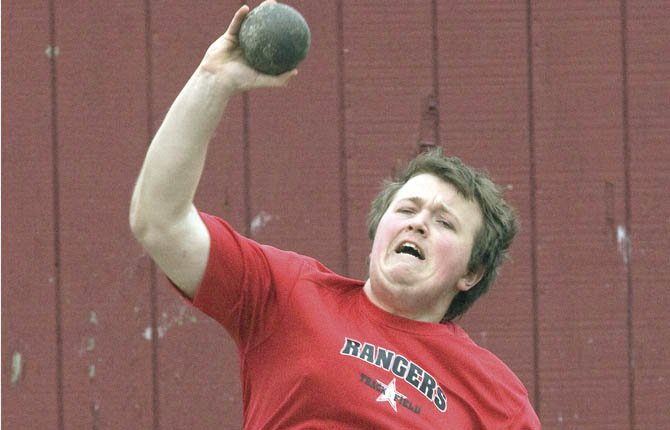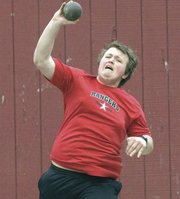 Taylor Darden won her second shotput event of the season and the Dufur Rangers added 10 top-5 finishes in their try against a top field at the Columbia River Invitational Track Meet Saturday in Riverside.
"I think they will continue to progress," said Dufur coach Connie Harvey. "They have done so many good things already, and they will meet their goals with more hard work and dedication."
Darden's toss went 31-feet-8 inches, a distance of more than a half a foot better than Makayla Christopher (31-01).
The sophomore added a time of 15.04 seconds in her try at 100-meters, and tallied second in discus where her best throw sailed 100-07.
In her first season on the track team, Bethany Stelzer put on a solid display.
Stelzer finished second in the 400 with a marker of 1:13.69, and she claimed third in the 300-meter hurdles with a time of 57.95.
The senior added a throw of 60-07 for ninth in javelin and she notched a mark of 11-11.50 in the long jump.
Nicole Johnson added seventh place in the 800 where she crossed the tape in 4:21.73, and in shotput, she had a final standing of 10th with her 25-03.
On the boy's side, Austin Olson placed second in shotput with a distance of 41-06 and tacked on fifth in discus where his top toss hit at 100-06.
Olson ended up fifth in javelin with his 113-07 and he finished sixth in the 300-meter hurdles at 59.04.
Jake Little tallied his best output in javelin with his best reading set at 121-03. Little had a time of 27.50 in the 200, and added a 13.20 in the 100.
Wendell Jim kicked in at seventh with a 4-10 in high jump and he finished fifth in the 300 hurdles with a time of 55.61.
Brandon Thenell notched third in shotput with a 38-01, added an 84-10 in discus and motored home in 16.47 in the 100-meters.
Rounding out the Rangers was Jon Buntin, who added a 2:39.57 for 12th in the 800.
SWC turns it on at Condon event
Loreto Morelli grabbed a win and so did the 4x400-meter relay team, in South Wasco County's latest event this past Saturday at the Condon-Wheeler Invitational.
Morelli had a time of 55.38 seconds in the 400 meters, and he was the third leg in the relay event along with Colby Crowell, Clyde Sinclair and Colton Nannini for a final marker of three minutes and 57.24 seconds.
Nannini churned out fourth in the 1,500 with his 5:19.08, Sinclair placed fifth in the 400 with a 59.34 and Crowell grabbed second-place status in the discus, as his top toss went 108-02.
Travis Hayes had a height of 34-03.5 in the triple jump and the freshman lunged 15-10.50 for seventh in the long jump.
On the girl's side of the track, there were seven top-3 outcomes.
Zoe Morelli ended up second in the 400-meters where her time red out at 1:06.50 and she posted a third in the 300-meter hurdles at 55.99.
Joy Kelly ended her day in second place in the 1,500 meters where she stopped the watch in 6:04.78. Kelly also had a time of 13:18.04 for second in the 3,000.
Katherine Popchock had a 30-03 in triple jump to grab second place, and she inched ahead for second in the 300-meter hurdles in 54.82.
She was third in the 100-meter hurdles in 19.05 and the senior earned fourth place in pole vault at 6-06.
Sherman, South Wasco County and Dufur were in Arlington tonight.