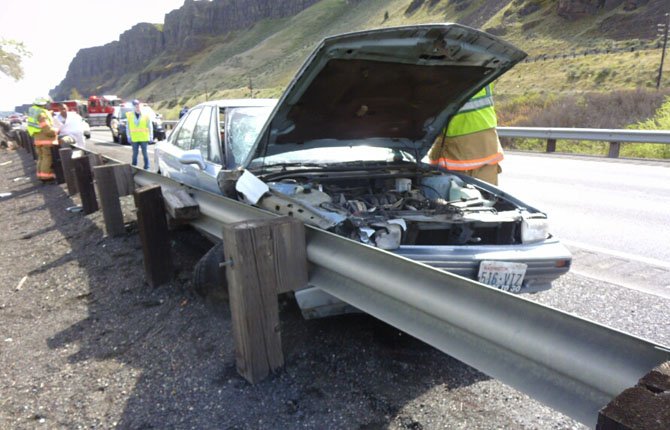 Investigation by the Oregon State Police is continuing into the cause of a fatal single-vehicle crash April 6 on Interstate 84 about five miles east of The Dalles.
The crash resulted in the death of one man and injuries to two other vehicle occupants.
The four-door 1994 Oldsmobile was driven by Pablo Medina, 47, of Sunnyside, Wash. The vehicle was westbound April 6 at about 11:30 a.m. near milepost 92 attempting to pass a commercial truck when it collided with a guardrail several times. The passenger car eventually came to rest along the north side of the westbound lanes.
Medina was pronounced dead at the scene.
A 70-year old woman in the right front passenger seat, Maria Medina from Sunnyside, was seriously injured. She was transported by LifeFlight to Legacy Emanuel Medical Center in Portland. Right rear passenger Seth Medina, 16, from Sunnyside, was transported by ground ambulance to Mid-Columbia Medical Center in The Dalles with minor injuries.
None of the three occupants were using safety restraints.
"We're still waiting on the medical examiner to give us a little more information," said Patrol Sgt. Les Kipper this morning. "We're not 100 percent sure if it was a medical condition that caused the crash. We're trying to locate medical records and find out the medical history."
OSP was assisted at the scene by the Sherman County Sheriff's Office, Mid-Columbia Fire & Rescue, and the Oregon Department of Transportation.
One lane was closed for about 3 hours.