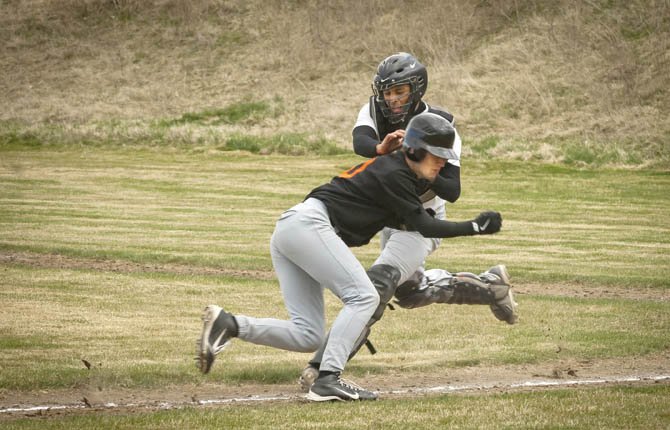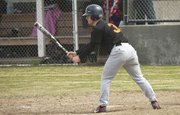 Moro — ­­Right before Nick Coleman went out for his at-bat, Sherman pitcher Austin Kaseberg pulled him close for some inspirational words.
Whatever Kaseberg said worked like a charm.
Coleman hit a one-out triple off Irrigon ace Francisco Nunez and later ­scored the eventual game-winning run on a fielder's choice in Sherman's 7-5 win over Irrigon Saturday in Blue Mountain Conference baseball play in Moro.
"I talked to Nick, and said "Nick, get me a hit," Kaseberg said. "When he did, I think it boosted our confidence up. After that, he even came up to the mound when we were on the field and told me, "I got you your hit, now get me a win."
Coleman used positive thinking in his approach. He had a good bead on Nunez's stuff from the opening game of the doubleheader.
"I imagined my self getting a hit for Austin," Coleman said. "I saw this guy in the last game, so I know what he is going to do. I put a good swing on the ball and hit the right field. I was glad we got things going from there."
With Coleman at third base, Riley Brown was up next and he hit a ground ball to shortstop. The Irrigon fielder fired a bullet home, but Coleman beat the tag and Sherman led by a 6-5 score.
Eddy Lopez then added an infield single and Brown cruised home for an insurance run after a ball hit by Kaseberg was misplayed by the Knight shortstop.
In the bottom of the seventh, Kaseberg had to do a high-wire act to get out of trouble.
With one out, Irrigon's Leon Luna reached on an error. Luna raced to second on a wild pitch, and Cougar Kroske reached on a walk to put the tying run at first base with only one out.
Kaseberg then struck out Robin Wright for the second out.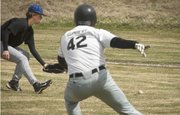 Taylor Gumbert was up next representing the winning run.
While he was up, Luna and Kroske advanced into scoring position on a wild pitch.
Gumbert fell behind 1-2, but worked the count full against the Husky pitcher.
On the payoff pitch, Gumbert sliced a weak line drive to Sherman first baseman Jonah Davis for the final out.
"I was feeling good going into it (the seventh inning), but once they loaded the bases, I got a little nervous and scared at the end of it," Kaseberg said. "It felt good to make the pitches when I had to for my team to get the win."
It was a frustrating game for the Huskies, who had plenty of opportunities to score runs.
They had six hits, walked 11 times and the Irrigon defense committed five errors.
Even with all of those chances, Sherman stranded 16 base runners, including the bases loaded four times.
"I think this will boost our confidence a little more," Kaseberg said. "We know we can accomplish anything we want if we try. I hope we have more wins coming."
Kaseberg tossed seven innings of three-hit ball with five strikeouts and four walks. The sophomore also hit two batters.
On the field, his defense committed eight errors and all five runs were unearned. Kaseberg also had some help from his catcher Wyatt Stutzman, who threw out two runners on the basepaths.
For Coleman, the nightcap win, after a 17-8 loss in the opener was a good way to end the weekend.
If Sherman had been swept, he feels things would have been dicey from there.
"It is a momentum thing with us," Coleman said. "We need to play better in order to be successful. We have to keep focused for seven innings and not go off on our own stages. We have a lot of things to work on. Mostly the mental things about the game hurt us today. If we keep the right mind frame, then most of our mistakes can be corrected."
Sherman (2-4 overall, 1-1 league) hosts Heppner at 4:30 p.m. today in Arlington.