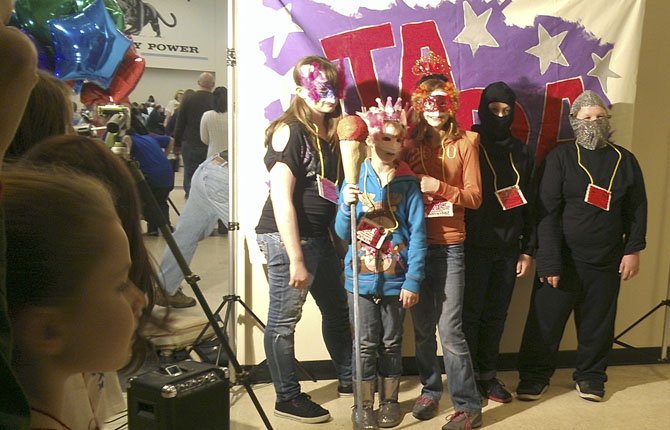 A pair of ninjas, a mysterious treasure and a fairy disguised as a rock helped a Destination Imagination team from The Dalles Middle School end their season with a third-place medal at state.
The sixth grade team — comprised of Taylor Ramsey, Eli Ferguson, Kristiana Warren, Matthew Feil and Keri Kiser — showed off their creative thinking this year by competing in the In Disguise challenge. Some of the challenge's requirements included telling a story with non-verbal acting skills, creating masks for the characters to wear and creating a character that "morphs" into something else before the judges' eyes.
"I wear a hood that looks like a rock when I'm under it, and then when I stand up and flip it around it becomes a cape, and I become the fairy of friendship and love," Ramsey said.
The team also created a variety of masks, including one that the wearer can blow into a pair of balloons to make the mask's eyes bulge out in surprise.
Every year Destination Imagination teams from around the world choose from a handful of challenges to work on throughout the year. They present the solutions to their long-term challenges at regional, state and global competitions and also compete in instant challenges, which test their ability to improvise and think on the spot.
This year the sixth grade team chose the fine arts challenge. They told a story of ninjas in Candyland, sent by the ninja queen to find a special treasure.
"Each of us has half the key but we think it is the whole key, and then when we get there we're beating each other up trying to get the treasure first," Ferguson said.
Eventually the ninjas learn the value of working together and fit the key into the rock, which turns into the fairy of friendship, who teaches them that friendship is one of life's most valuable treasures.
"When we had the group hug at the end I was so relieved because it was over," Ramsey said. She said performing in front of judges and an audience can be scary.
At the regional competition the team placed third, but said they had plans to make improvements before state, especially to their set, which team manager Nora Ferguson said had been having technical difficulties.
"The set made it through the skit but then when it was over and the judges were coming over to look at it, it fell over and hit one judge in the head," she said.
As the adult manager of the team she isn't allowed to give the team any suggestions or help them out, other than doing things like chauffeuring the team to the store for supplies and providing safety supervision while working with tools.
Their adjustments paid off with a third-place state finish. Before their trip to state, Nora's son Eli said he was most looking forward to seeing what other teams had come up with.
"I like DI because you can do what you want and have fun and be creative and work with your friends," he said.
Ramsey said one of her favorite parts is shopping for the materials for the set and costumes while following the budget limit each team is given.
The team got a later start than most Destination Imagination teams and has only been working since January to put together their long-term challenge solution. They also practice for Instant Challenges, which are hard to prepare for because the team has no idea what kind of task they might be given when they walk in the door. It could be anything from building a bridge out of the food items given them to creating a skit using as many movie titles for lines as possible.
The other long-term challenges for 2012-2013 involved the following:
Design and build small vehicles that use at least three different power sources and use them to tell a story about the dangers vehicles face.
Present a story about an invisible visitor using kinetic art pieces that move by themselves.
Improvise a five-minute skit about characters adapting to a major life change, using three nouns randomly selected at the tournament and costumes drawn on plain white T-shirts.
Build a structure that can support heavy weights while taking hard hits, using materials on a list, and then use it to tell a story with an unexpected twist
Find a community need and present a documentary about how the team addressed the need.