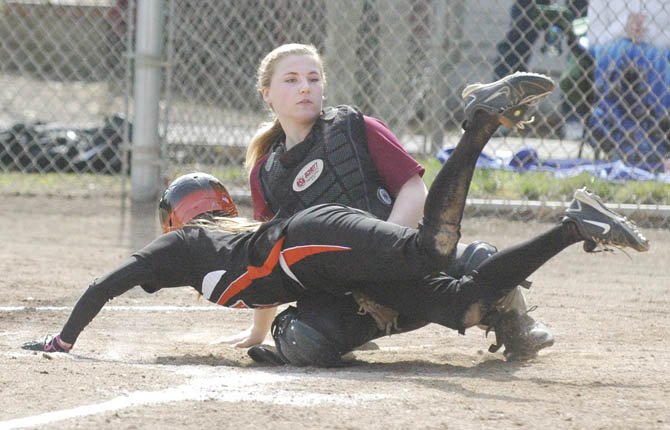 The middle of the order had its mojo working and Morgan Triperinas took care of the rest.
Katherine Kramer, Melanie Taphouse and Katie Helyer went a combined 9 for 16 with eight RBIs and seven runs scored and No. 13 TDW broke open a 9-2 lead with seven runs in the top of the seventh inning to upend Mountain View 16-4 in non-league softball play Monday in Bend.
"That is where we expect to have a lot of production," said TDW coach Steve Garrett of his 3-4-5 hitters. "Off and on, we have had one or two of them going good in a game, but never all three like today. They really sparked this lineup for us with their hitting."
Up by seven runs in the fateful seventh frame, TDW sent 13 batters to the plate and slugged out seven hits to the damage.
Helyer, Buchanan, Kella DeHart, Kramer, Taphouse all had RBI hits. Taphouse slammed out two doubles in the frame, while Kramer added a pair of singles.
In the seventh inning, TDW pitcher Morgan Triperinas allowed four hits and two runs, but got the final outs to preserve her sixth win of the season.
The junior allowed six hits, struck out one and did not walk a batter.
All of the runs she allowed were unearned.
At one point during the fourth through sixth innings, Triperinas retired seven Mountain View batters in a row.
"It was a very fine effort on her part. She just hits her spots," Garrett said. "She continues to be consistent for us. It was a fun game to watch her throw."
Morgan Goslin and DeHart added three hits, two RBIs and a run scored each, and Triperinas helped her cause with a hit, an RBI and two runs scored.
Not only did TDW help itself with 18 hits, but also the batters were issued seven walks and the Cougar defense committed six errors in the field
"We put the bat on the ball one-through-nine," Garrett said. "What they really overcame today was the urge to get out in front and try to kill the ball. They were more patient at the plate and waited for their pitches. When they saw it, they went after it."
At noon Saturday, TDW (8-4 overall) kicks off league play with a critical doubleheader at home against Hermiston (7-5).