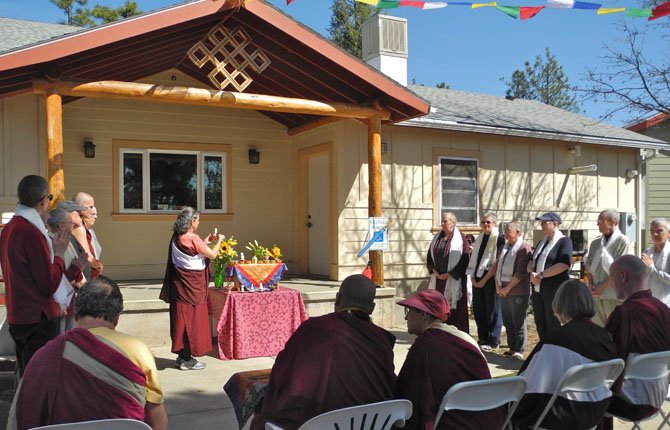 A Buddhist retreat near Goldendale, some 12 years in the making, accepted its first 13 "long-retreatants" Sunday, March 31, who will be cloistered in virtual silence for a year.
The land and facility cost $2.8 million, was funded by 550 donors and can house up to 16 retreatants in twin cloisters. It is a project of Kagyu Changchub Chuling, a Buddhist center founded in Portland in 1976.
Shorter retreats have happened at the facility, but this is the first long retreat. Morning, noon and night, the 13 retreatants will be immersed in cloistered meditation. Their day will start at 4 p.m., and they'll be in active meditation until 9 p.m.
In all, they'll actively meditate 11 hours a day. Two of the meditation sessions are group sessions. "That's a support for sanity," said Lama Michael Conklin, one of the teachers at the retreat.
The retreatants include a doctor, a hip-hop artist, a university professor, an agricultural specialist returning from Afghanistan and nine others.
When asked why she was doing a one-year retreat, one retreatant answered, "I want to continue to find and soften the origins of harm and war in my own stream of being and nurture the seeds of compassion and peace. The only effective path I've so far experienced is this practice, which helps me undo the snake's nest of confusion, which I'd rather not continue to pour into this world. Probably the most useful thing I could do for a year."
Bill Spangle, of Portland, did a one-year retreat in Canada with his wife. They were "on silence" every morning until after lunch, and did three days of complete silence every month.
He spoke of "the gift of silence," and described it as, "When we speak, most of the time we're doing things very automatically. Sometimes they call it social echolocation, we're just kind of making idle conversation to make other people react. I'm still here, you're still here. OK, we'll do it again in a few seconds. It's just kind of habit."
"We can fall into all kinds of negative and unconscious habits if we speak a lot," he said.
He said negativity is not a biological necessity, it's a learned habit.
One of the main lessons he learned was just how many of our thoughts and feelings, which we believe are caused by others, are really caused by ourselves.
"Just getting to know yourself better and that you're responsible for what goes on in your own life is one of the main things," he said. "We're really the authors of our own experience."
He was surprised that, five months into his retreat, he recognized habits of his that he thought were caused by other situations or people, but even without that outside stimulus, he was reacting that way.
"That gives you a little humility. 'Oh, I see, I'm up to my own tricks, not somebody else.'"
He's learned to mellow out in normally frustration-inducing situations, like heavy traffic or a long line at the grocery store. He's learned to empathize with the checker, who has to "deal with a string of people who all wish the line was going faster."
He makes a point to speak kindly, and with interest, to checkers.
Dealing with heavy traffic is another area he's seen a change in himself.
"It's actually an opportunity because I can lie in wait for myself. Set a little ambush for myself. And I'll see how fast I can catch it [the habitual frustration] and more naturally put myself in a more positive frame of mind."
He does that by thinking about what other drivers are going through, rather than thinking about himself.
Having this thought process means "we're not depending on circumstances for a sense of well being. We're not blown about by things."
The retreatants each paid $13,000 for the year, and during that year, they will have their meals provided for them by two people who cook and do other caretaking at the retreat.
Conklin has done one-year retreats and the traditional long-retreat, which is three years, three months and three days.
The cloister, he said, is "a pretty tight, closed situation." He likened it to monks and nuns in a monastery.
"There's something special about being with a group of people for a long period of time," he said. "I like to call it the lifeboat syndrome. If you're out to sea in a lifeboat, despite what movies have done with that, there's a tendency to get along with each other in a way that they normally don't."
"It's not all about getting along with each other, but in another way, almost everything can be linked to that," he said. In a long retreat, "generally, people come to terms with all sorts of things."
Shorter one- to two-week retreats are done in complete silence, "however, for longer retreats, that can be a psychological burden for some people." So, every day for about two hours, speaking is permitted.
In the beginning, people will talk a lot during that break, but as the retreat continues, "gradually, it gets less and less," Conklin said. "There's a way in which people will say they felt closer than when they used to speak with them."
The retreatants come together twice a day and spend an hour and a half and two hours together. In all, they do about 11 hours a day of active meditation, which is done to "directly experience the nature of mind. Which is not the nature of the brain."
Buddhism itself is not easily defined, Conklin said. Over the course of 45 years, the Buddha, who lived in India, produced three great cycles of teachings, "three turnings of the wheel. Each one of these grows from and elaborates on the previous one."
The Buddha said suffering is primarily generated by one's own mind. Confusion comes from not understanding one's own mind. "We're kind of pulled here and there by all kinds of influences that we feel no control over," Conklin said. "But if we actually understood our minds we would understand that all of that is not necessary."
Everywhere Buddhism was exported from India, it ended up looking a bit different, he said.
The Buddha taught that all beings are enlightened, they just don't know it, and because they don't know, they're confused, and because they're confused, they act unskillfully, and bring suffering to themselves and others.
Conklin said all religions deal with "stuff beyond this life." Buddhists believe in reincarnation. "Christians will say, 'We don't believe in reincarnation,' And Buddhists will say, 'Well, what do you call heaven and hell?' It's not exactly reincarnation, but in a Buddhist way, we'd say, it's as close as you can get. It's really the same thing."
As for life beyond this life, Conklin said, "We're so incarnated, we're not in touch with possibilities beyond this life. It keeps things kind of small."
Retreatants are learning to combat the "disease of selfishness, or self-centeredness," Conklin said. It's the norm for people to relate to their memories in dysfunctional ways, and to relate to others as if we're the center of the universe, he said.
He said we tend to "live in yesterday and tomorrow all the time. You're never here in the present."
Being in the present can mean "when people speak, you listen to them, not just figuring out what you're going to say to refute them," he said.
He believes the world is a direct reflection of the beings in it.
"Every person adds anger or kindness, or confusion or whatever it is into the great stew of who we are."
"So, in small ways or critical ways, developing kindness and compassion and letting go of too much a sense of 'I need to be somebody,' is helpful to everybody you meet."
Sprangle also learned at the retreat to not only be kinder to others, but to himself. Meditation taught him to be mindful of what was going on, and he learned to let go of a chain of thought, just be able to relax and let go of it. And not put another judgment about what a bad person I am, but to let go of the momentum."